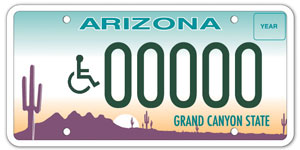 1 Plate Issued
Plates are assigned to, and may only be displayed on, a specific vehicle registered or leased in the disabled applicant's name.
Read More (Details)
If leased, but not registered in the applicant's name, a document showing the disabled applicant as a lessee is required. A disability plate may be transferred to another qualifying vehicle by visiting the nearest MVD or Authorized Third Party Office.
For parking in reserved parking spaces marked with the International Symbol of Access. No fee is required to add a disability symbol to selected plates where indicated (other special plate fees still apply.
Parking spaces marked with this symbol are only for use by a vehicle displaying a valid disability plate or placard, and only when transporting the person who was issued the plate or placard.
Must complete application form #96-0104 signed by a physician or hospital administrator.
Applicant must have one or more of the following conditions: unable to walk 200 feet without stopping to rest; unable to walk without assistance from another person or from a brace, cane, crutch, wheelchair or other prosthetic or assistive device; lung disease with forced respiratory, expiratory volume for one second, if measured by spirometry, is less than one liter, or the arterial oxygen tension is less than 60 mm/hg on room air at rest; uses portable oxygen; cardiac condition with Class 3 or 4 functional limitations as by American Heart Association standards; or severely limited in ability to walk due to an arthritic, neurological or orthopedic condition.
Also available to organizations for vehicles primarily used to transport physically disabled persons.