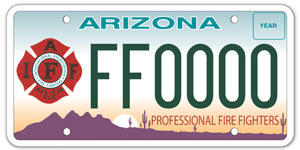 1 Plate Issued
$25 initial application fee/ $25 annual renewal. Applicant must submit an original certification form provided by the Professional Fire Fighters of Arizona.
May be personalized with a maximum of 6 characters. Also available with a disability symbol.

$17 of the initial and annual renewal fee goes to the organization.
Recipient
Professional Firefighters of Arizona