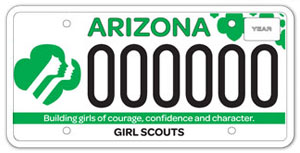 1 Plate Issued
$25 initial application fee/ $25 annual renewal. No special requirements. Available to everyone. May be ordered online. May be personalized with a maximum of 6 characters.
Also available with a disability symbol.

$17 goes to the Girl Scouts for enriching experiences, such as extraordinary field trips, sports skill-building clinics, community service projects, cultural exchanges and environmental stewardships. 
Recipient
Girl Scouts, Arizona Cactus-Pine Council