Identification Requirements
Travel ID Document Requirements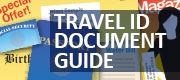 Three categories of identification documents are required. All documents must be originals or certified copies in English, certified by the issuing agency.
Selecting your Documents
Be sure to bring them with you when applying for a Travel ID.
Use this document guide to select documents you need.
Option 2: Refer to the Required Documents List
Required Documents List
Categories of identification documents are listed below with examples of qualifying documents.
Bring One Document: Proof of Identity (Birth certificate; U.S. Passport; Passport Card)
If you need a certified copy of an Arizona birth certificate, the Arizona Department of Health Services now accepts online orders with expedited processing.
Social Security Number (No document is needed, though you will need to provide your complete Social Security number.)
To order a replacement Social Security card visit the Social Security Administration website and establish an account.
Bring Two Documents: Proof of Arizona Residency– two printed documents with your current Arizona residential address (Utility bills; Credit Card / Bank statements; insurance policy)
Note: If your current legal name is different from the one shown on a document, you must show legal proof of name change, such as a marriage certificate, divorce decree or court order.
Those who don't have the required residency documents must complete an Arizona Residency Affidavit and supply additional proof of residency.

Resources