Commercial Driver License Office Locations
Knowledge and Skills Testing is conducted by appointment only. CDL services other than knowledge tests can be conducted over the phone. Knowledge tests require a minimum score of 80 percent to pass the exam. Applicants are required to wait until the next business day to retake any tests. Commercial permits tests will be scheduled no later than 3:00 PM and endorsement tests will be scheduled no later than 4:00 PM. For information or to set an appointment, please call 602.255.0072.
To access MVD services from home:
Step 1:
Activate your AZ MVD Now account and do the service online.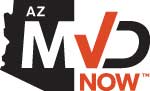 And ...
Step 2:
If you can't do the service online, MVD customer service agents will assist you.
Call 602.255.0072
Phone Center hours are:
7:30 a.m.- 4:30 p.m.
Monday - Friday
Note: Due to the ongoing health situation, MVD offices are not accepting walk-in customers. You must have an appointment.
Thank you for your understanding and patience.