Taxi, Livery and Limousines
Existing decals for 2017 (pink decal) are no longer valid as recent changes in statute have repealed the issuance of decals. Having a previously issued 2017 decal does not remove the requirement to get a Vehicle for Hire company permit.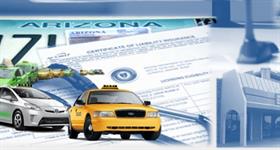 New businesses need to submit a paper application in order for the Department to set up their account. Once your completed application has been received, reviewed, and processed you will be notified on how to log onto the ServiceArizona business portal.
For more information please read the recent licensing changes tab.
Required documents, detailed instructions and vehicle compliance requirements are described on this site. If you have questions or need assistance, please contact us at 602.712.5948 or by email at [email protected].
Please make sure you submit all required information. Also, please make certain your company contact information (email, phone numbers and addresses) is kept current. Report any changes to the Department.
Valid Permit Report
Additional Resources
City of Scottsdale: The City of Scottsdale is providing information on its website pertaining to Scottsdale-specific enforcement actions that may be taken against Transportation Carts.
Other jurisdictions may have additional requirements. Please contact them directly for further information.