Taxi, Livery and Limousines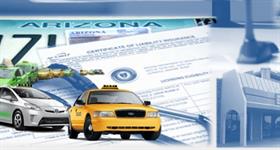 Companies in the business of transporting passengers for hire under ARS 28-9503, are required to obtain a Vehicle for Hire Permit. In order to operate on Arizona roadways, new businesses must submit an application to the department for review and processing. The Vehicle for Hire permit is valid for 3 years from issuance. Please make sure you submit all required contact information (email, phone numbers, and addresses, etc.) and notify the Depart of any changes within 10 business days and 30 days for ownership changes.
Required documents, detailed instructions and vehicle compliance requirements are described on this site. If you have questions or need assistance, please contact us by email at [email protected].
For more information on the regulatory oversight change from Weights and Measures to ADOT please read under Recent Licensing Changes on the News tab.
Valid Permit Report
Report updated every Monday of the week to show currently permitted companies.