Energy Efficient Plate Program
Energy Efficient Plate Program Ending March 2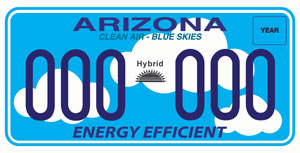 Arizona's Energy Efficient Plate Program is ending effective, March 2, 2020. The program allows eligible plug-in hybrid electric vehicles (PHEVs) unrestricted access to the high-occupancy vehicle (HOV) lanes in Arizona.
Current holders of an energy efficient plate may continue to use that plate on a qualifying vehicle and make use of the HOV lanes. If the vehicle is sold, traded or otherwise has its title transferred to another party, the energy efficient plate is no longer valid.
Through March 2, 2020, current plate holders may transfer the plate to a new qualifying energy efficient vehicle. As of that date, it will no longer be permitted.
Plates will not be issued to new participants.
The program is being discontinued to comply with federal regulations regarding HOV lane usage.
List of qualifying vehicles (The list will no longer be updated.)
See if your vehicle qualifies.
This change only applies to the energy efficient plate program. Alternative fuel vehicles, including those that are totally electric powered, are not affected.