What you need to know about the Arizona Mobile ID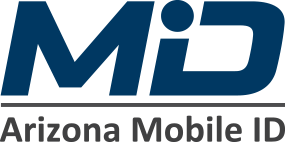 The Arizona Mobile ID (mID) is a voluntary, secure, digitized version of your ADOT MVD-issued driver license or ID card that you carry in an app on your smartphone.
Because mID is a new technology, you should continue to carry your physical ID with you because not all entities are able to verify mobile ID yet. MVD urges people to always carry their physical ID when driving so it can be used in interactions with law enforcement during traffic stops or incidents.
MVD will continue to issue physical, plastic credentials and use of mID is voluntary.
More details about the soon-to-launch Arizona Mobile ID can be found in this FAQ.

CONVENIENT
Prove your identity and pay for your purchase from the same device at participating locations.
ID check with barcode scanning is quick, easy and contactless.
SECURE
Fingerprint or face unlocking means only you can access the app and your data if your phone is lost or stolen.
PRIVATE
Mobile ID puts you in control by letting you decide what information you share with the help of unique privacy views.
Mobile ID lets you verify your age without exposing sensitive data like birth date, height, weight or address.
How do I get an Arizona Mobile ID?

Register your phone number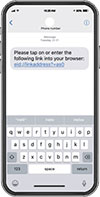 Scan your ID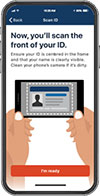 Take a selfie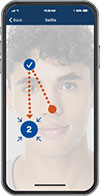 Set up app security and go
How do I use my Arizona Mobile ID?
1. Can I see some ID?
Pull up your ID on your phone. Show the screen with your driver license on it ("IDs"), or the home ("Me") screen.
If needed, you can authenticate your Mobile ID by selecting "Certify." This will display a rotating emblem that follows your finger while moving across the screen.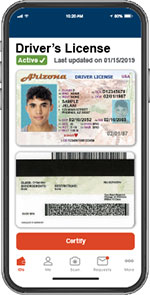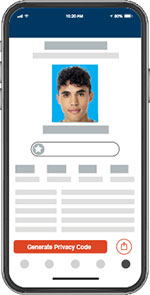 ---
2. "Can I scan your ID?""
1. Display the barcode from the back of your ID as it's shown under "IDs."


-OR-
2. Go to the "Me" screen and tap "Generate Privacy Code" to display a bar code only view.

---
3. "Can I scan your Mobile ID QR code"?
1. Open the Mobile ID app.
2. Go to the "Me"/home screen.
3. Tap the "Share" icon next to "Generate privacy code."
4. Present the QR code for scanning to initiate the connection with the verifying device.
5. Accept (or Decline) the request to share information under "IDs."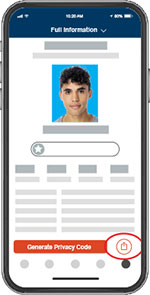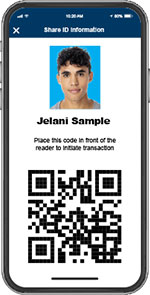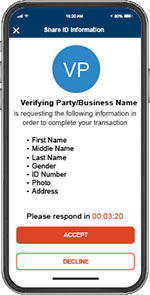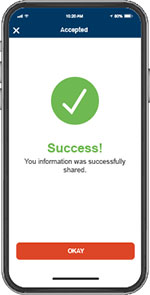 Privacy Views
When you want to order a drink at a restaurant, the server doesn't need to know your birth date, weight, eye color or address. They only need to know you're of legal age.
Privacy views allow you to share only relevant information.
Access privacy views by tapping on the arrow next to "Full information" at the top of the home screen.
Select a privacy view, e.g. Prove my age.
If you tap Generate privacy code, the barcode that shows up contains only the information from the privacy view, in this case you're 21+.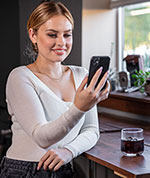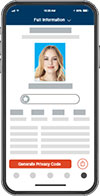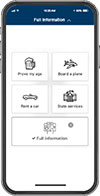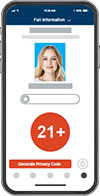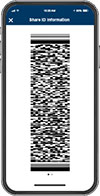 For businesses and ID-verifiers
Become an Arizona Mobile ID Adopter and join the growing list of businesses and state agencies that accept the digital credential. Vendors can accept the Mobile ID with confidence, as information on the digital ID can be verified against what is on file with the Arizona Department of Transportation Motor Vehicle Division and will always be accurate and up-to-date.
Join the Arizona Mobile ID Adopter program and receive your "Welcome Kit" to let your customers know you accept Mobile ID.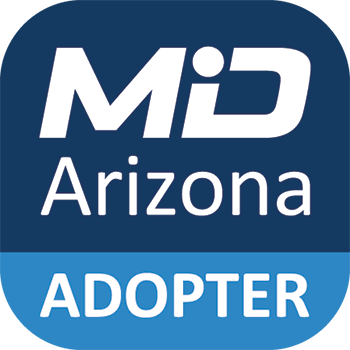 Frequently Asked Questions
Have a question? Please check the FAQ document for answers to the most common questions. If you do not find what you are looking for, please visit IDEMIA's Mobile ID support site at https://idemia-mobile-id.com/help for more support options, such as Email and Live Chat, and Helpdesk service hours.
Quicklinks