Permit Test @ Home
Permit Test @ Home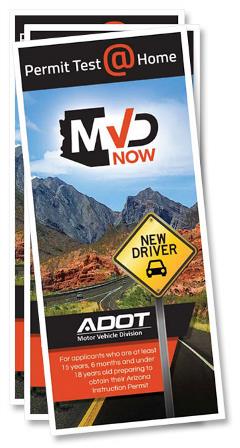 Click to view - permit tests brochure.
Teenage Arizona drivers who need to take the written driver test to get an Instruction Permit can now take that test online with appropriate supervision.
Permit Test @ Home is available for parents or legal guardians to administer utilizing their free, personalized account on AZ MVD Now (azmvdnow.gov).
Note: Teenagers' accounts cannot be used for taking the test. The parent of legal guardian must have the account.
Steps for the parent or legal guardian: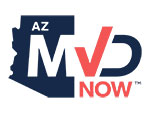 Verify your identity
Complete your teen's information
Pay the $7 application fee
Supervise the test
Participating Arizona Professional Driving School trainers can also administer the test on behalf of the parent or legal guardian.
It is recommended that teens study the Arizona Driver Manual and take the online practice tests before attempting the Permit Test @ Home.
Note: At this time, Permit Test @ Home is offered only to teenagers under 18.
Getting the permit after passing the test: