Veteran Designation
Veteran Designation
A Veteran Designation on an Arizona driver license, instruction permit or identification card is available to U.S. military veterans or active duty service members. The word "VETERAN" will be printed on the front of the license/permit/ID in blue lettering.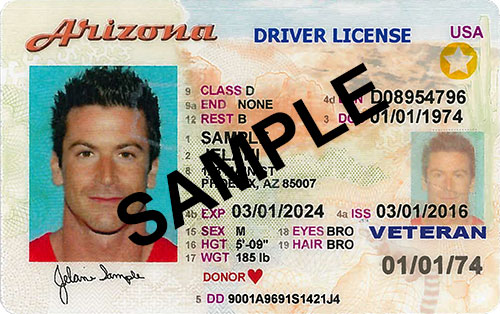 Those who would like the designation should fill out the Arizona Driver License/Identification Card application or Commercial Driver License application (40-5122) and check the Veteran Designation box.
This application should be brought to any MVD field office or authorized third party that processes driver license transactions, along with veteran designation documentation. See below for a list of approved documentation.
Initial applications must be received in person and will require a new photo. Once on the customer record, a duplicate can be ordered online at AZMVDNow.gov and it will have the VETERAN designation.
Standard transaction fees apply.
Veteran Designation Documentation
(One of the following documents must be presented at the time of application)
Original or copy of the customer's DD214, 215, 2 (Retired), 2 (Reserve), DD217
Active duty military identification card (also known as the United States Uniformed Services Identification Card or the Armed Forces of the United States Geneva Conventions Identification Card)
Inactive duty card
Original Statement of Honorable Service from the Department of Veteran Affairs or Arizona Department of Veteran's Services.
Certificate of Honorable Discharge
American Legion card
Disabled American Veteran card
Military Officers of America card
Veterans Administration Medical card
Veterans of Foreign Wars card
Military Order of the Purple Heart
Vietnam Veterans of America card