Motor Vehicle Dealer License Application Process and Account Set Up
Motor Vehicle Dealer License Application Process and Account Set Up
Notice: Paper applications are no longer accepted and will be returned. Please follow the steps outlined below to submit electronically.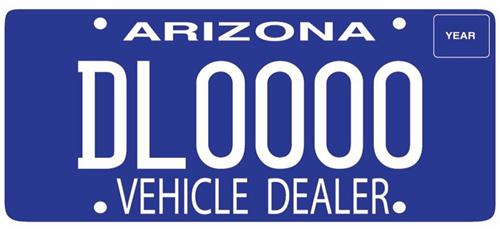 Step 1: Sign up for an account with ADOT Force
New applicants and existing Dealers will be able to use the ADOT Force to submit new applications, and to make changes to existing licenses. Dealers can submit applications to order new, cancel or replace plates, add/delete contacts and various other functions
Once a new application is submitted with all required documentation and photos, the Dealer Licensing Unit will review the application and inform the applicant of the status. Applicants may also monitor the status of submitted applications in the ADOT Force.
Select the application type that fits your dealership's needs. Provide all required documents for the license type including photo requirements. When completing the AZ MVD Now application, the email used for the Dealer Account must be unique and not associated with any other account, including personal AZ MVD Now accounts. Please do not self register this account, it must be set up by the Dealer Licensing Team.
Step 2: Required documents
Notice: Paper applications are no longer accepted and will be returned. Please follow the steps outlined below to submit electronically.
The following forms must be attached to ALL applications:
Additional items that may be required based on the Dealer License type are:
Photos of the office space, locking cabinet for dealer paperwork, business sign, posted business hours and all four sides of the building
If dealer is located is a Suite or complex, 2 labeled dedicated parking spaces
Articles of Incorporation (if applicable)
Transaction Privilege Tax License for the current year and address of proposed dealership
Dealer Bond with Power of Attorney (amounts vary based on dealer type), make sure all signatures are present
A letter of Intent (New Car Dealers only)
Photo of Perimeter fence (only Auto Recyclers)
Photo of sign stating "Vehicles are sold as is" and "No implied Warranty" (only Wholesale auction and Public Auction)
For additional assistance and tools during the application process please visit the Dealer Community Help site:


Step 3: Obtain fingerprints and background information 
Submit online
Individuals must create an account on the portal by navigating to psp.azdps.gov.
Click the "Sign Up" link in the upper right portion of the screen. There you will be given a choice of what type of account to create. Select the "Background Check for employment/licensure" icon.
Click on "YES" to the next question.
Select the "Individual" option. (PLEASE NOTE, IF YOU ALREADY HAVE AN INDIVIDUAL ACCOUNT, YOU DO NOT NEED TO CREATE ANOTHER ACCOUNT, YOUR EXISTING ACCOUNT CAN ACCESS THE NEW BACKGROUND CHECK FEATURE)

Complete the fields (You MUST ensure that you input your full legal name as it appears on your government-issued credential (Any other name may delay the process)

Individual accounts will not need to be approved by DPS, however, the customer will have to validate their email address by clicking on a "Verify Email" link sent to your registered email address.
Once your account is created and verified, you will need to input fingerprint code VDR-059.A
Once you enter the fingerprint code above, you will be taken to the rest of the application. This is your personal information and a few questions.
Once this process is complete, you will be taken to the "My Order" page to pay for your background fee. There will be a pop-up window asking to enter your registered email address. Once complete, you will receive a notification requesting you pay for your background check fee. Navigate to your "Dashboard" (link in the upper portion of the home screen) and scroll to the "My Background Checks" tile. There you will see your name and a checkbox. Click the checkbox and select the "Pay" button. Follow the instructions from there.
Authorization to Release Information/Statement of Personal History: Dealer

Note: This is only required for owners who are at least 20% stakeholders.
Step 4: Pay the applicable invoiced fees via your AZMVDNow.gov account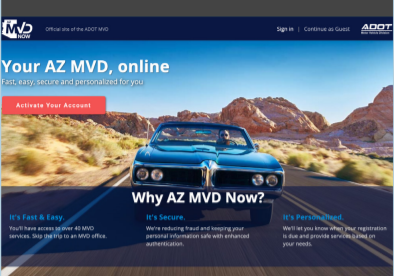 If additional information is needed please email the Dealer Licensing team at [email protected]
As a newly licensed motor vehicle dealer you will need to use the following sites to maintain your business:
Dealer Registration Transfer (eTitle) login to https://livesite.adotdlrtransfer.com.  For additional information, the DRT User Handbook, FAQs and tutorial are available on the Dealer Licensing website.

ADOT Force - Adot.force.com is the site used to make changes to the dealership such as requesting new plates, replacement plates, canceling plates, changing locations or owners, etc.

AZ MVD Now Dealer account is where funds are added, dealer license renewal, dealer TRP and permit issuance, as well as other dealer applications.

Forms required by ALL dealers - the Audit Report and the Dealer Plate Audit
Effective September 24, 2022 the initial application licensing fee waiver may apply for qualified individuals that are the spouse of an active-duty service member or honorably discharged veteran.
Must be honorably discharged within 2 years from the submission of the initial application date.
NOTE: Public Consignment Auction Dealer must access the Service Arizona Dealer Suite of Services to fulfill the statutory reporting requirement per ARS 28-4410.01.  Failure to report timely will result in penalty fees being assessed.
NOTE: Your dealer license must be renewed prior to expiration to avoid penalties.
NOTE: New Dealers must register all new vehicle types with our department prior to selling and must be accompanied with a Letter of Intent from the manufacturer to sell their products.
NOTE: For Arizona revised statutes as pertains to dealer licensing use reference Title 28 Chapter 10 Articles 1-10
NOTE: For Arizona revised statutes as pertains to dealer license plate usage and compliance use reference Title 28 Chapter 10 Article 7
Dealer Licensing Unit must be notified within 30 days when an officer, director, partner, agent or owner/stockholder having 20% or more interest is added or changed, if there is a change of location or name change or any change in status of business.
If you have questions or need assistance, please contact the Dealer Licensing Unit at [email protected].
Need additional information?