Energy Efficient Plate Program
Energy Efficient Plate Program
Energy Efficient Plate Program Ends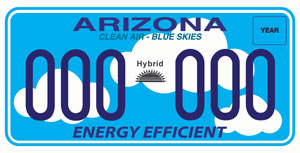 Arizona's Energy Efficient Plate Program has ended. The program allowed eligible vehicles unrestricted access to the high-occupancy vehicle (HOV) lanes in Arizona.
Current holders of an energy efficient plate may continue to use that plate on a qualifying vehicle and make use of the HOV lanes. If the vehicle is sold, traded or otherwise has its title transferred to another party, the energy efficient plate is no longer valid.
The program was discontinued to comply with federal regulations regarding HOV lane usage.
This only applies to the energy efficient plate program. Alternative fuel vehicles, including those that are totally electric powered, are not affected.