Vehicle Insurance Information
Vehicle Insurance Information
Update Your Insurance Information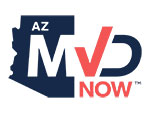 This free service allows you to update your vehicle insurance information from your AZ MVD Now account and submit it to MVD. You can also reinstate the vehicle registration, if necessary.
Mandatory Insurance
Arizona requires that every motor vehicle operated on roads in the state be covered by liability insurance through a company that is authorized to do business in Arizona. This includes golf carts, motorcycles and mopeds.
Minimum levels of financial responsibility are:
$25,000 bodily injury liability for one person and $50,000 for two or more persons
$15,000 property damage liability
Insurance companies notify MVD of all policy cancellations, non-renewals and new policies. If your insurance company sends a notice that your policy is no longer active, MVD will send you an inquiry notice to verify insurance status. You may update and manage your insurance on AZ MVD Now. Failure to maintain proper insurance could lead to the suspension of your vehicle registration and/or driver license.
Temporarily Discontinue Insurance: Notify MVD
Temporarily discontinuing the required insurance on a vehicle until it is ready to be on the road again is referred to as de-insuring a vehicle. It is important to notify MVD when this occurs as a means to prevent suspension for failing to maintain proper insurance. Notify MVD through your AZ MVD Now account.
De-Insurance Notification to MVD
Note: When the vehicle is ready to be on the road again, please use the button below to submit your new insurance to remove the De-Insured status.  

Update Insurance Information