Got dirt? Earthwork plays key role in building South Mountain Freeway
Got dirt? Earthwork plays key role in building South Mountain Freeway
PHOENIX – Building a freeway requires moving a lot of dirt, particularly for the roadway surface, and to build bridge and wall foundations, embankments and connecting ramps.
For the 22-mile Loop 202 South Mountain Freeway, the largest-ever highway project in Arizona, crews will haul and compact about 10 million cubic yards of earth, the equivalent of more than 800,000 truckloads and enough to fill University of Phoenix Stadium 13 times.
"One of the most important parts of freeway construction is building the foundation, which requires large amounts of dirt material," said Rob Samour, ADOT's senior deputy state engineer for major projects. "Compacting this amount of dirt takes time, but it's essential to ensure we'll have a stable roadway for decades to come."
Some of this earthwork requires digging dirt out of areas such as the cross street at Desert Foothills Parkway to build an underpass or the existing I-10 (Papago Freeway) embankment to create access roads parallel to the freeway. Crews need to build up other sections, particularly where the freeway travels over local streets. During peak production, about 50,000 cubic yards of material will be moved daily for the project.
About a tenth of the dirt will be imported, including loads currently being hauled and delivered overnight along the Pecos Road corridor to avoid traffic backups during the day. Bulldozers, rollers, scrapers and other pieces of heavy equipment then move, build up and compact the dirt to create the highway's foundation.
At a project location adjacent to the Salt River in Laveen, the Arizona Department of Transportation and Connect 202 Partners, the developer responsible for building the freeway, will use 1.1 million cubic yards of dirt to fill in a former sand and gravel pit.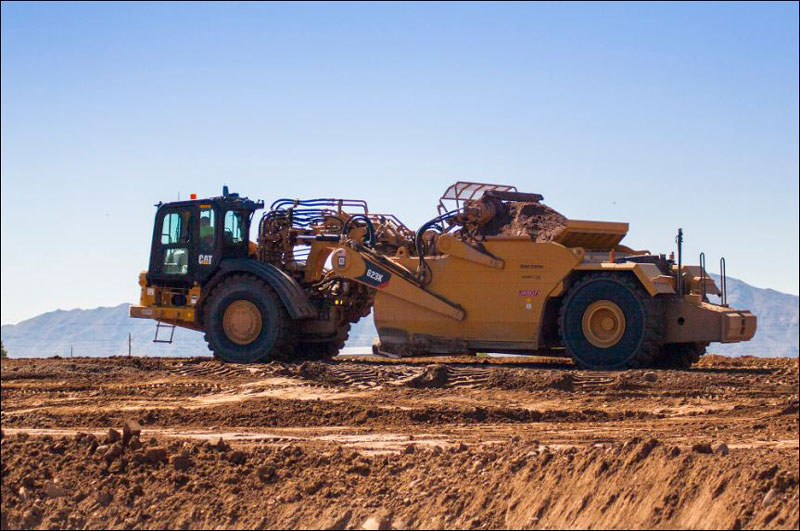 Before any digging can start, crews typically wet dirt to make it easier to move and help with compaction and dust control. Compacting the soil creates a solid base for the roadway, and wetting the dirt in advance makes this step easier.
Crews will continue to place the dirt and compact it until they get it to the height needed for the future roadway.
Once the earthwork is finished, it will be time to pave.
When it opens by late 2019, the South Mountain Freeway will provide a long-planned direct link between the East Valley and West Valley and a much-needed alternative to Interstate 10 through downtown Phoenix as it runs east and west along Pecos Road and then north and south between 55th and 63rd avenues, connecting with I-10 on each end.
Approved by Maricopa County voters in 1985 and again in 2004 as part of a comprehensive regional transportation plan, the South Mountain Freeway will complete the Loop 202 and Loop 101 freeway system in the Valley.
For more information, visit SouthMountainFreeway.com.