Yesterday and Today: Snowplows
Snow hasn't changed since the 1950s, but the way ADOT clears it from the road has.
While today's snowplows look quite different compared to the design from decades ago, we're fairly certain that back then snowplow operators appreciated the cooperation of other motorists just as much as they do now.
This winter, ADOT has 450 commercially licensed snowplow drivers who are all ready for the next storm. When it snows, ADOT's plow drivers stay very busy – the typical shift lasts 12 hours during a storm. To help make their jobs a little easier, there are some simple things all motorists can do.
Respect the plow
First, remember that during or immediately after a snowstorm, you're better off delaying your travel until the roadways are clear and the weather has cleared up. If you must drive, please follow these safety tips:
Never pass a snowplow! Slow down and be patient.
Stay at least four car lengths behind snowplows and equipment. Plowed snow can create a cloud that reduces visibility, and spreaders on trucks throw salt or sand that can damage your vehicle.
Watch for snowplows operating in multiple travel lanes or in tandem.
If approaching an oncoming snowplow, slow down and give the plow extra room.
For even more on ADOT's snowplow crews, take a look at this video from last year to see what a day in the life of a snowplow operator entails. You cans also visit ADOT's Know Snow page for safe driving recommendations and tips to help you prepare for driving in wintry conditions.
---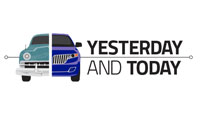 We love featuring vintage transportation-related photographs on this blog, but we also like to focus on how things have improved and changed over the years. That's why we thought it'd be fun to compare the old to the new in a series we're calling, "Yesterday and Today."