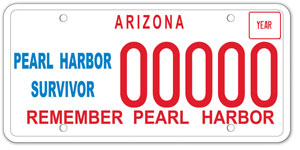 1 Plate Issued
$25 initial application fee/ $5 annual renewal. Applicant must have been on station as a member of the United States Armed Forces on December 7, 1941, during the hours of 7:55am and 9:45am Hawaii time at Pearl Harbor, the island of Oahu or offshore at a distance not exceeding three miles, have received an honorable discharge and provide form 02-25, Part II from the Arizona Department of Veterans' Services (ADVS).
The initial application fee goes to the Department of Veterans' Services. May also be issued to the spouse, parent, child, brother or sister of an eligible person who has been issued this plate.
Special Plate Application (form #96-0143) is required. Not available to be personalized.
Also available with a disability symbol.

Recipient
Arizona Department of Veterans Services