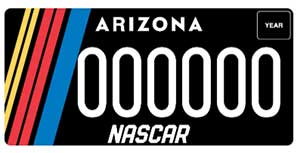 1 Plate Issued
$25 initial application fee/ $25 annual renewal. No special requirements. Available to everyone. May be ordered online. May be personalized with a maximum of 6 characters.
Also available with a disability symbol.

$17  goes to the Arizona Accelerator Charities which supports the local community through charitable investments for education, healthcare, families of active duty military and veterans, as well as life enrichment programs for children and their families.
Recipient
Arizona Accelerator Charities