ADOT among Flagstaff-area agencies honored for smoothing snow-play traffic
By Ryan Harding / ADOT Communications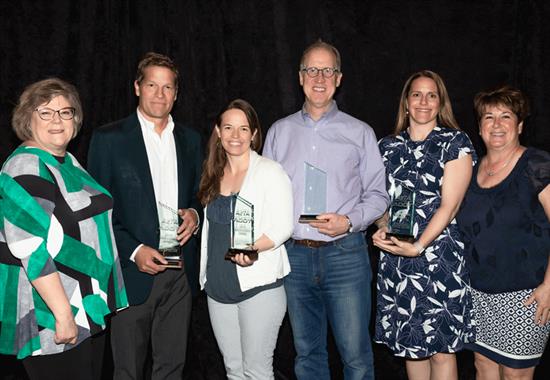 This past winter, those who headed to play in the snow along US 180 had less congestion to worry about thanks to a now-award-winning partnership several northern Arizona agencies including ADOT.
This partnership, consisting of the Northern Arizona Intergovernmental Public Transportation Authority (NAIPTA), Coconino County, Arizona Snowbowl, city of Flagstaff, U.S. Forest Service and ADOT, received the Partnership of the Year award at the 2019 Arizona Transit Association and ADOT Excellence Awards for their efforts to address heavy congestion US 180 has seen after winter storms.
ADOT issued a grant to the Northern Arizona Intergovernmental Public Transportation Authority to look for solutions for the US 180 backups northwest of Flagstaff. At the same time, Coconino County formed a task force between the agencies and another made up of area residents to brainstorm ideas.
Working with both task forces and gathering data to discover the actual impact of the congestion, NAIPTA formulated a plan to provide free bus rides for people from Flagstaff to Snowbowl with Mountain Express bus service and using Flagstaff High School's parking lot as a park-and-ride location.
The result: fewer vehicles on US 180 heading toward Snowbowl and other snow-play areas.
"This was a great example of different agencies coming together to pool their resources to solve a problem," said Jill Dusenberry, ADOT transit manager (at far left in the photo above). "Our partnership resulted in a more enjoyable trip for those coming to play in the snow."
The award ceremony took place earlier this month during the Arizona Transit Association/ADOT Annual Transit Conference held in Mesa.