ADOT Communications wins national awards for Twitter, newsletter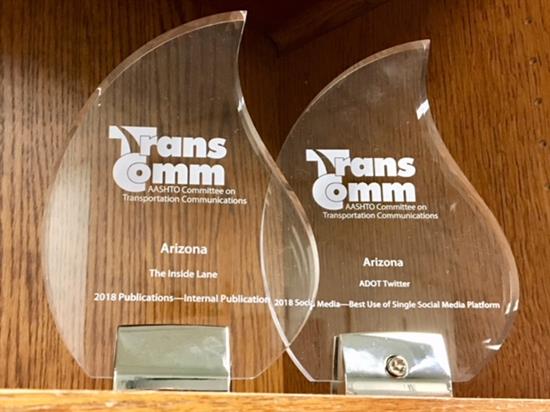 By Peter Corbett / ADOT Communications
Winning awards is nice, but the real rewards at ADOT Communications come from delivering information that helps keep you safe, informed and getting where you need to be as efficiently as possible. We also value our role in keeping ADOT employees informed about a large and diverse agency with a shared goal of public service.
Still, we were honored to accept two national first-place awards recently at a conference of the American Association of State Highway and Transportation Officials, or AASHTO.
The organization's TransComm Awards honored ADOT's Twitter account (@ArizonaDOT, in case you aren't among our 227,000 followers) for Best Use of a Single Social Media Platform.
The Inside Lane, a newsletter produced for ADOT employees around the state, was named top Internal Publication.
AASHTO's contest received more than 165 entries from 31 states.
ADOT's Twitter account, now 10 years old, provides timely messages to travelers about road conditions, closures and congestion. We also share pictures of Arizona's highways, sunsets and dramatic storms, along with stabs at humor, when appropriate, and highway-related quizzes.
We know that motorists aren't always happy with traffic and road conditions, and we welcome their feedback.
We're encouraged by the many positive comments we get from our Twitter followers, and we're also encouraged by the many positive comments ADOT employees offer about The Inside Lane. Awards are nice, but that kind of feedback matters most around here.