ADOT crews respond to abandoned mobile home on highway
ADOT crews respond to abandoned mobile home on highway
Kathy Cline / ADOT Communications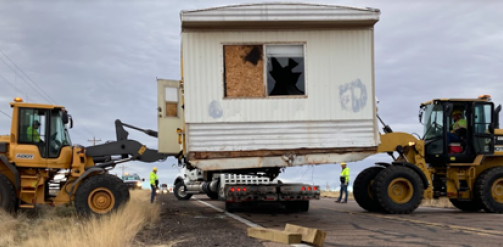 True or false: ADOT crews have removed an abandoned mobile home from the middle of a state highway?
Answer: True!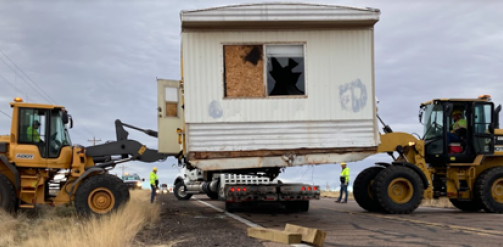 In December, a dilapidated mobile home was found abandoned on State Route 61 near St. Johns. Its owners couldn't be found and a heavy-haul tow company declined to remove the 48-footer it because of its dilapidated condition.
Enter ADOT's Holbrook and St. Johns maintenance crews. They worked out a plan with the Arizona Department of Public Safety and a nearby landfill to get the deteriorated vehicle off the highway. That's a straightforward plan, but executing it took some patience.
First, DPS closed the highway to traffic. Next, loading the mobile home onto a transport trailer took several attempts with two loaders.
"The mobile home was unstable and on the brink of falling apart," explained Jay Wagoner, St. Johns Unit Highway Operations Supervisor. "Once the loaders were able to safely pick up the mobile home, the transport trailer was backed up underneath the mobile home, which was being held up by both loaders."
Finally, the mobile home was safely loaded and moved to the landfill, about ten miles away.