ADOT traveled fast track in opening new Loop 303 interchanges west of I-17
ADOT traveled fast track in opening new Loop 303 interchanges west of I-17
By Doug Nintzel / ADOT Communications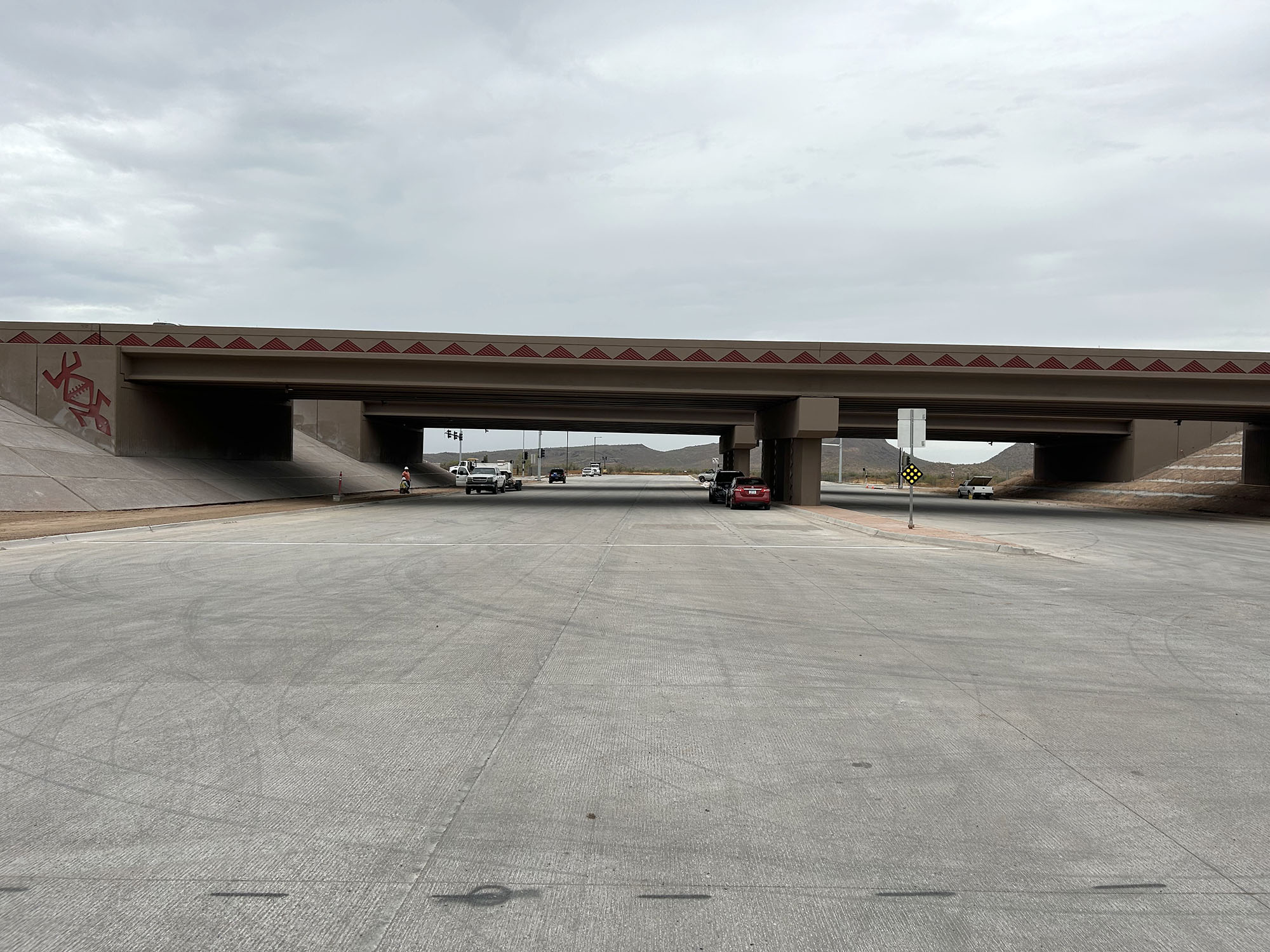 As with many ADOT freeway improvement projects, the mission was a challenge: build two new interchanges along Loop 303 west of Interstate 17 in one year.
Well, the project team came through before Labor Day, which is symbolic given the holiday is certainly associated with hard work.
We're glad to report the new Loop 303 interchanges at 43rd and 51st avenues are open. It wasn't just a matter of adding new ramps at each of those cross streets. This was an acceleration of an extensive project that had been scheduled in the future. 
With regional economic development efforts a key factor, the Maricopa Association of Governments (MAG) and city of Phoenix huddled with ADOT to arrange for the project to be built sooner. The interchanges now provide additional access to the area around the giant Taiwan Semiconductor Manufacturing Company plant that is under construction.
The ADOT project team accepted the challenge and got to work on the $70 million project last fall. New bridges were built to carry Loop 303 over 43rd and 51st avenues. Until now, freeway traffic had been traveling on "interim" pavement along the paths for planned on- and off-ramps near the future (and now open) interchanges.
New sections of the mainline freeway lanes were constructed to go with the new bridges. A new westbound frontage road now extends between 43rd and 51st avenues. Drainage facilities were built, including storm drains, box culverts and new concrete channels. The 51st Avenue interchange was relocated slightly west before work started to match the city's realignment of the cross street.
ADOT was able to meet the goal of a year-long construction schedule by instituting strategies for acquiring necessary components, including traffic signal poles, in advance of the project.
The prime contractor on the Loop 303 project, Fisher Sand and Gravel Co., was proactive in working with ADOT to get the job done. 
Of course we need to thank area drivers for their patience during the construction. The good news is that those weekend closures between I-17 and Lake Pleasant Parkway have ended. MAG, Phoenix and many drivers are starting to look ahead to a project to finish direct ramps connecting I-17 and Loop 303, pending available funding. 
ADOT plans and constructs new freeways, additional lanes and other improvements in the Phoenix area as part of the Regional Transportation Plan for the Maricopa County region. Most projects are funded in part by Proposition 400, a dedicated sales tax approved by Maricopa County voters in 2004.
For more information about Valley freeway projects, please visit ADOT's website. Information about MAG and the Phoenix region's efforts to advance the new Loop 303 interchanges is here.