ADOT's Ina/I-10 project protects desert dwellers batty about a bridge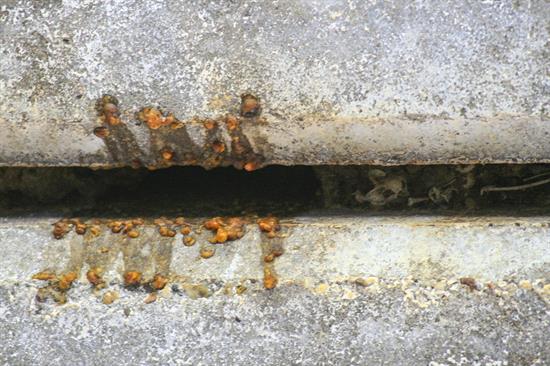 By Tom Herrmann / ADOT Communications
Here's a batty situation for you.
As part of the 25-month Ina Road/I-10 project in Marana, Arizona Department of Transportation crews will be replacing a bridge over the Santa Cruz River west of the interstate. Before work can begin on any such project, ADOT prepares an environmental assessment to determine if there are issues to address before or during the work.
We found one: Thousands of bats make their home under the bridge. They hang out during the day in openings such as the one shown above. While you can't see any bats in this picture, they chatter in there throughout the day before taking off at sunset.
They do beneficial work on the night shift. Both species – the Mexican free-tailed bat and cave myotis bat – are prodigious consumers of mosquitoes.
Because the bats are state-protected (though not endangered) migratory species, ADOT is working with an Arizona Game and Fish Department biologist to protect the them during construction of the new bridge.
Once a new Ina bridge is built just south of the existing bridge, one of two spans that will carry the widened road, the bats will be encouraged to move into new homes – known as bat boxes – under the new bridge. That will allow ADOT to remove and replace the existing bridge. That second bridge also will have bat boxes placed between the girders as homes for Marana's least-seen residents.
The town of Marana is providing $25 million for work that's widening Ina Road and reconstructing its Ina Road bridges over the Santa Cruz River. The town arranged funding for the bat-protection work through the Regional Transportation Authority.
If all the bat chatter sounds familiar, there's a reason. Work to replace a bridge over the San Pedro River on State Route 92 southeast of Sierra Vista was delayed for two months last fall after two lesser long-nosed bats – an endangered species – took a break from their southward migration under the bridge. Our work resumed only after the bats' journey to Mexico did the same.