On Alert: ADOT maintenance crews on call and ready to respond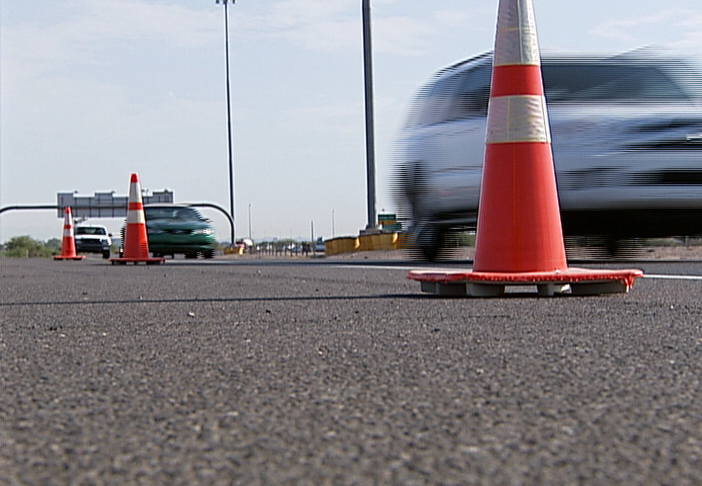 By Angela DeWelles / ADOT Communications
Did you know that on top of repairing guardrail, filling potholes, clearing out culverts and performing a variety of other everyday duties, ADOT maintenance crews also respond to traffic incidents?
Around the state, no matter what time of the day (or night), ADOT crews are on call and ready to go, according to Raymundo Baca, a superintendent for ADOT's Central Maintenance District serving the Phoenix metropolitan area and its surroundings.
"Our role is traffic control and anything to do with ADOT's right of way," said Baca, adding that ADOT responders work closely with law enforcement on the scene. "We all have the same goal, which is to get that road cleared immediately."
Baca supervises the Arizona Local Emergency Response Team (ALERT), a group of maintenance employees in the greater Maricopa County area who volunteer to be available for emergency calls. Throughout the rest of the state, ADOT maintenance crews share the responsibility (they're not all always on-call; they rotate days).
"When we get a call from the Traffic Operations Center, they'll contact the designated personnel who are on that call list," said Danny Soliz, highway operations superintendent for the Southwest District. "The incidents happen often in the evening and in the middle of the night."
No matter where they're located, these dedicated ADOT employees play a big role in getting traffic moving again quickly and safely. Here are a few more facts about these crews:
They are prepared and ready to go. ALERT members and crews statewide drive emergency response vehicles that have everything needed to close down a lane of traffic and set up a detour. Soliz said trucks are equipped with message boards, warning signs, cones, flags, flares, absorbent material (to soak up fuel leaks) and tow straps for moving vehicles off the roadway.
They're specially trained and have taken courses in everything from flagging to traffic incident management. Baca explained that as responders, ADOT crews take training that focuses on how to respond to a scene in a way that's going to minimize the impact on traffic flow. Clearing the scene quickly is a must. "We want to avoid having any secondary accidents," Baca said.
They have one thing they want all drivers to remember, as working on these incidents gives crews a unique perspective.
"Move over," Baca said. "Give these guys a little bit of breathing room. Not just for ADOT. Do it for State Troopers, tow trucks and anyone stranded on the side of the road."
Soliz echoed him.
"We do have the Move Over law in Arizona," he said. "When our folks are responding, it's helpful when drivers obey the law and move over."