Annual closure of SR 67 to the Grand Canyon's North Rim is set for next week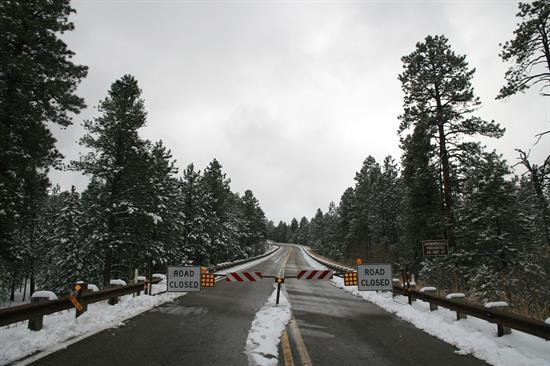 By Laurie Merrill / ADOT Communications
For many an adventurous motorist, the North Rim of the Grand Canyon National Park holds the allure of an alternative perspective of one of the world's most magnificent views. About 10 percent of all Grand Canyon visitors makes the North Rim a destination.
If you're hoping to travel to the North Rim this year, time is running out quickly. As we do each year, ADOT will close State Route 67, the paved route to the "other side," on Monday, Dec. 3. It usually reopens in mid-May.
Most North Rim services have been shut for the season since Oct. 15, including the Grand Canyon Lodge, food services, trail rides, park ranger programs, general store and Visitor Center.
After SR 67 is closed near Jacob Lake (US 89A), you won't be able to drive to the North Rim. ADOT doesn't clear plow the 43-mile highway, which averages 9 feet of snow annually and takes motorists through alpine terrain more than 8,000 in elevation.
State Route 64 remains open year-round to the South Rim of Grand Canyon National Park.
State routes 261, 273 and 473 leading to lakes in the White Mountains region are scheduled to close for the winter on Dec. 31. The highways could close earlier depending on weather.
Tips on winter driving are available at azdot.gov/KnowSnow. These include being careful if your GPS suggests taking a detour down an unpaved, unplowed road. That can get you into big trouble. Never let an app replace common sense.