Arizona empieza a instalar los primeros Corredores Seguros en el estado
NOTE: Today's blog, for our Spanish-speaking audience, talks about newly designated Safety Corridors.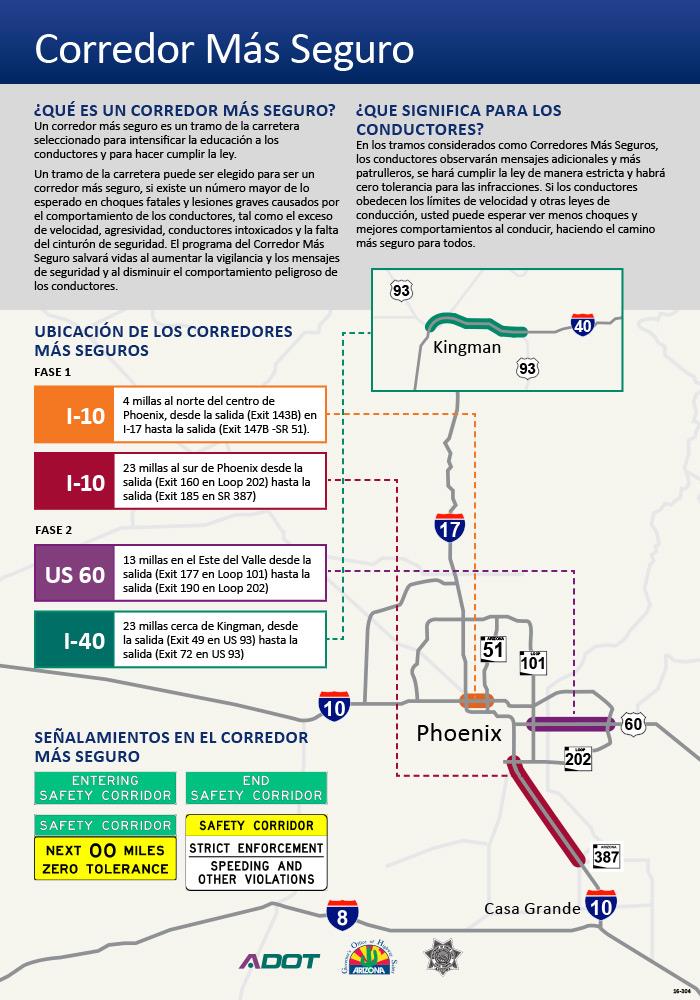 By Lourdes Lerma / ADOT Communications
A partir del 12 de diciembre, 2016, los conductores de Arizona observan nuevos señalamientos indicando las secciones de algunas carreteras que serán Corredores Seguros y notarán un incremento en la presencia de oficiales de policía en estos Corredores Seguros.
Los Corredores Seguros son secciones de la carretera en las que suceden más choques, más heridos y más muertes de lo que normalmente se espera y estas secciones fueron seleccionadas porque tienen más casos de lo normal de conductores manejando a exceso de velocidad, de manera agresiva, intoxicados por alcohol o drogas y por no usar el cinturón de seguridad; esas son las causas principales por muertes en el tráfico, y creemos que disminuyendo esos incidentes hará los caminos más seguros para todos".
Los Corredores Seguros permitirán que todos viajen de manera más segura. Si usted ya está obedeciendo las leyes de tráfico no tiene por qué preocuparse y puede disfrutar de un viaje más seguro. Si maneja a exceso de velocidad, de manera agresiva o infringe otras leyes de tráfico enfrentará las consecuencias porque habrá cero tolerancia.
Si tiene preguntas puede comunicarse conmigo al [email protected].
---
Spanish Blog Series
To better serve Arizona's Spanish-speaking community, our occasional Spanish blog series covers all aspects of transportation including safety and the Motor Vehicle Division.