Award-winning projects making a difference on freeways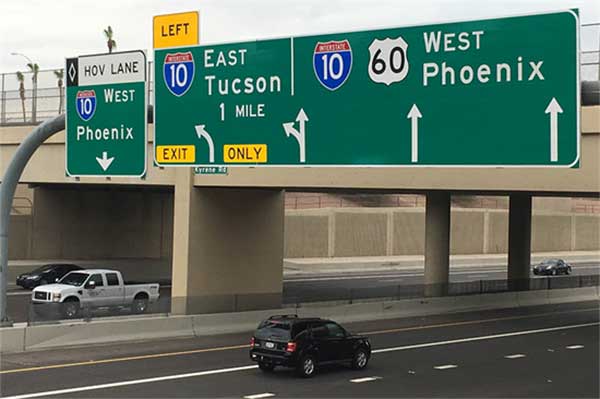 By Doug Nintzel / ADOT Communications
While the agency isn't in it for the awards, ADOT and a pair of its recent safety-based projects have been recognized nationally as examples of creative solutions to keep drivers safer on Phoenix-area freeways.
The National Operations Center of Excellence, with support from the Federal Highway Administration, has given its Best Transportation Systems Management and Operations Project award to ADOT's US 60 Superstition Freeway improvement project in Tempe.
The award recognizes the ADOT team members responsible for the evaluation, coordination and hard work that went into improving traffic conditions and, more importantly, reducing crashes along the stretch of westbound US 60 between Mill Avenue and the I-10 interchange.
The project addressed minor fender benders that occurred during weekday afternoon rush hours as westbound drivers jockeyed for position in order to get into the single left lane leading to the ramp to eastbound I-10, toward Tucson.
ADOT's engineers, collaborating with the state Department of Public Safety and city of Tempe, studied the situation before designing lane assignment and sign changes for westbound US 60.
In a nutshell, some lane-striping adjustments made in July allowed for one of the westbound left lanes to be adjusted to also travel onto that ramp to eastbound I-10. And the ramp itself was re-striped for two travel lanes. The result: significantly improved the flow of traffic in the US 60 left lanes and a dramatic reduction in crashes.
As this project shows, drivers still hold the key to safety, but ADOT can help steer improvements.
The second project to earn an award from the National Operations Center of Excellence is the pilot I-17 wrong-way vehicle detection and warning system in Phoenix. In operation for nearly a year, the thermal camera-based system being tested has successfully detected more than 40 vehicles traveling the wrong way along off-ramps or frontage roads along 15 miles of I-17. Fortunately, most of those vehicles were turned around without entering the freeway.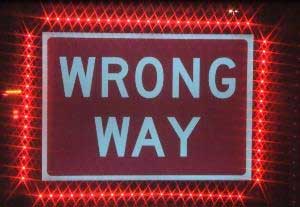 The I-17 system's technology can't prevent drivers, many of whom are impaired, from driving the wrong way onto a freeway. However, the results to date show that thermal cameras have been reliable in detecting wrong-way vehicles. The system also immediately alerts ADOT and AZDPS about a wrong-way vehicle, saving valuable response time compared to waiting for 911 calls from other drivers.
The national runner-up award for the I-17 wrong-way vehicle alert system also cited the decision to station an AZDPS trooper at ADOT's Traffic Operations Center in Phoenix as part of the system's comprehensive response plan.
ADOT is set to provide an evaluation of the first-in-the-nation I-17 thermal-camera system by spring 2019. There's no doubt that dozens of agency and contractor staff members, serving as a project team, also put in long hours to design, construct and operate a system to reduce the risk of tragic crashes.
It is award-winning work being done in the name of safety. The safety of you, your family and your friends. And mine too.