Bridge girders a big sign of progress at I-10 and Ruthrauff
By Garin Groff / ADOT Communications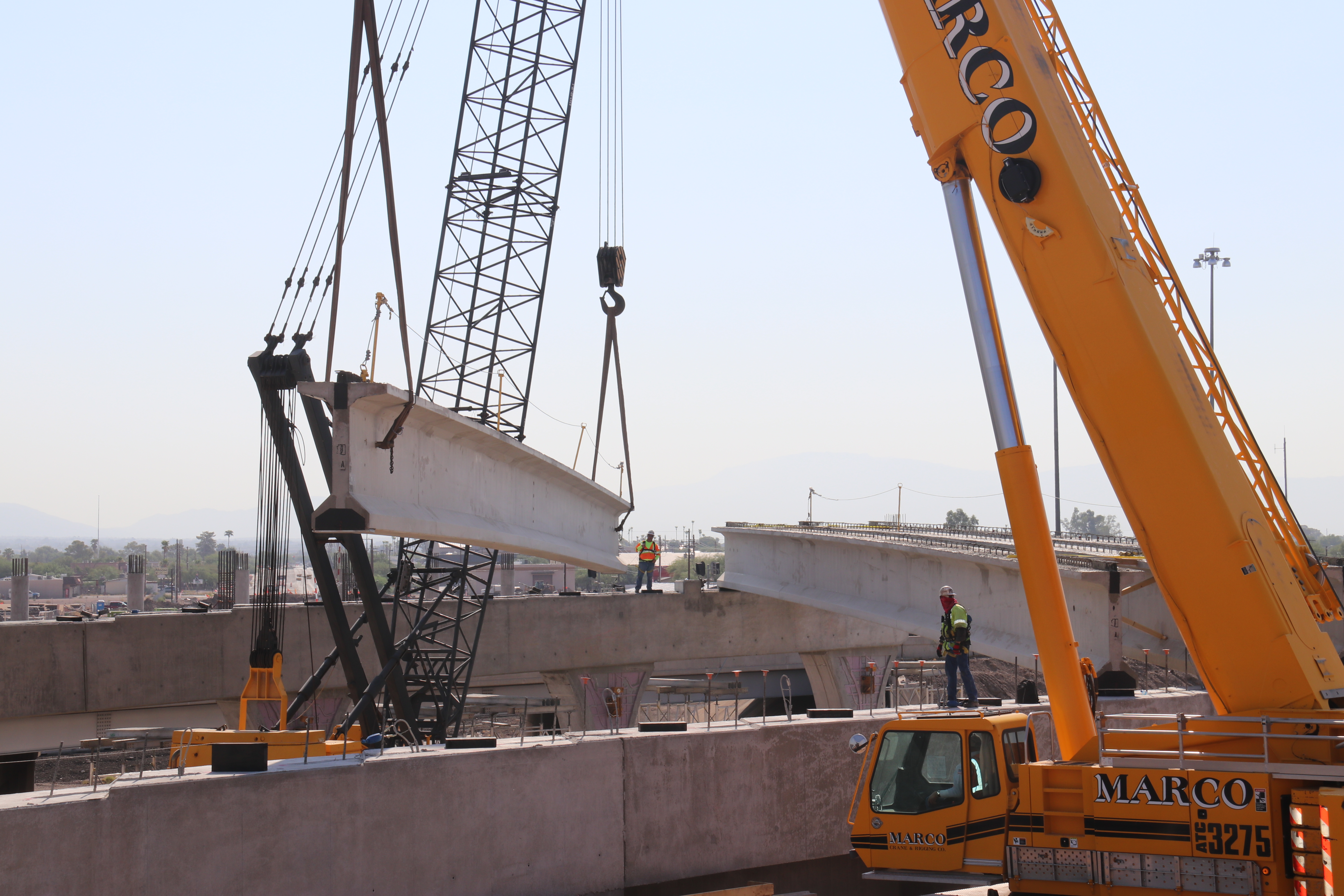 Nine months into a project to rebuild the Interstate 10 interchange at Ruthrauff Road/El Camino del Cerro, drivers have something to look up to.
It's not just one thing to look up to, but 15 massive new bridge girders that have been set in place to create half of the Ruthrauff Road/El Camino del Cerro structure that will eventually span the interstate in Tucson.
The bridge girders over the new eastbound lanes of I-10 are the most high-profile sign of progress to date on the $129 million project that began in January. They're visible from quite a distance to drivers on I-10, and for good reason – they're massive. The girders stretch 138 feet and stand 6 feet tall. Each one weighs in at 158,000 pounds.
The girders are just one part of constructing the bridge, as crews will spend the next couple months building the bridge deck that will eventually carry traffic.
Aside from the bridge girders, crews have rebuilt about one mile of eastbound I-10 with a new concrete surface. Also, retaining walls for the new eastbound frontage road are going in.
You can expect to see more bridge girders going into place this October, when the structure over the Union Pacfic Railroad to the east of I-10 will start to take shape.
As for the remaining bridge section over westbound I-10, crews will begin that segment in early 2021. By January, we expect to shift both eastbound and westbound traffic onto the new eastbound I-10 lanes. That will allow crews to construct the westbound portion of the bridge while also reconstructing the westbound I-10 lanes.
Once the interchange is complete by late 2021, drivers can cross over the railroad tracks without having to stop for the train.
Don't forget: ADOT is maintaining access to local businesses through the entire project. For updates and traffic alerts, please visit azdot.gov/RuthrauffTI.