Cross that bridge when you come to it
Cross that bridge when you come to it
By the Broadway Curve Project Team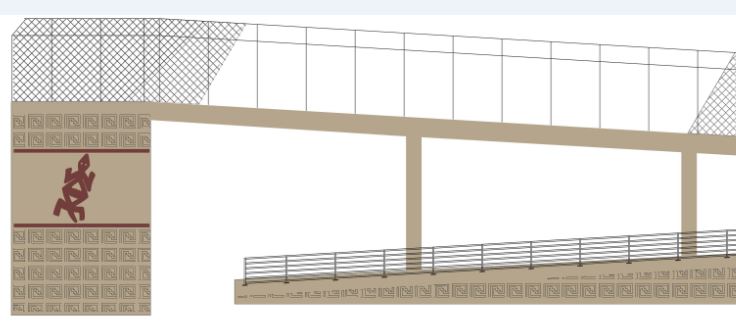 In baseball, a walk is an easy way for a player to get on base with no interference.
You could say the same for baseball fans who will be among those who use the future multiuse bridge at Alameda Drive to easily access Tempe Diablo Stadium, as well as commuters and recreational users who want to walk, run or ride bicycles safely over Interstate 10. 
Construction is underway on the new bridge, which will connect both ends of Alameda Drive on both sides of I-10. The Arizona Department of Transportation is delivering the bridge as part of the Interstate 10 Broadway Curve Improvement Project. It will integrate with the city of Tempe's Alameda Drive Bicycle & Pedestrian Streetscape Project, which begins at 48th Street at the Tempe/Phoenix border and runs for three miles to Rural Road in Tempe. The streetscape project is one part of Tempe's goal of enhancing alternative forms of transportation. 
"Tempe has the largest bicycling population in the state and there are people who commute through Tempe to Phoenix and vice versa, so we know there are people who want to be able to travel safely to and from their workplace," said Bonnie Richardson, an architect and urban planner with the city of Tempe.
The bridge's Alameda Drive alignment was chosen in part because it has less traffic and has major employers on both sides of the freeway in Tempe and Phoenix. 
"We want to make connections easy throughout the region, not just stopping at Tempe's border," Richardson said. 
Then there's Tempe Diablo Stadium. Once completed, the bridge will make for an easy walk or ride to and from the stadium for fans on the east side of I-10, who will no longer have to drive to the west side, where traffic can back up before and after spring training games.
Average attendance at Tempe Diablo Stadium for spring training games is between 6,000 and 7,000 fans, according to stadium manager Jerry Hall. "We're hoping more people will ride bikes or walk to the stadium to help with traffic flow," he said. "This should save people a lot of time getting in and out of the stadium during spring training games and other events."
One of the unique features of the bridge at Alameda Drive is its extended width. Generally, multiuse bridges are 10 feet wide, but the bridge at Alameda Drive will be 14 feet wide. The extra four feet will better accommodate foot and bicycle traffic going to or leaving the stadium at the same time.
The multiuse bridge will span 389 feet over I-10. Access on and off the bridge will be exclusively via ramps on both ends and accessible per the Americans with Disabilities Act. 
LED lighting will be installed on and approaching the bridge, and the fence will have 12-foot metal fencing.
Construction has also started on a second multiuse bridge at Western Canal south of US 60. This bridge will provide safe access for pedestrians, runners and bicyclists to and from the Western Canal recreational path on both sides of I-10.
Both of the new multiuse bridges are included in the I-10 Broadway Curve Improvement Project,  ADOT's largest urban freeway reconstruction project to date. They fulfill one of the project's goals of enhancing pedestrian and bicycle connectivity and reducing pressure on local roads. Both bridges are scheduled for completion in 2023. Although construction of the bridges should be complete before the rest of the I-10 Broadway Curve Improvement Project, the area will still be an active work zone. ADOT will announce when the bridges will open to the public.