Cyclists remain in The Loop with Ina Road improvements
By Tom Herrmann / ADOT Communications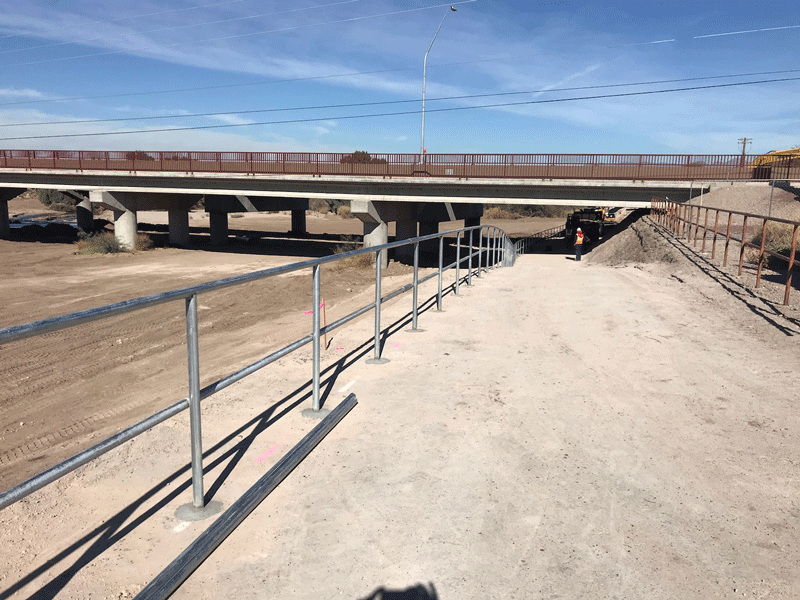 Drivers have a lot to like about the improvements nearing completion at Ina Road and I-10 in Marana: more travel lanes, an overpass that means no more stopping for trains and a new interchange that will accommodate traffic in this growing area northwest of Tucson.
We didn't forget about Tucson's vibrant cycling community. New trails along both sides of the Santa Cruz River will keep area riders in The Loop.
The Loop is a popular 120-mile system of paved, shared-use paths and protected bicycle lanes that connect the river parks, trails, bus and bike routes and other amenities from Marana and Oro Valley to South Tucson. It's popular with cyclists, walkers and horseback riders.
Before work began at Ina Road two years ago, The Loop approached Ina Road on the east side of the Santa Cruz River, crossed the bridge to the west side and continued north. When paving is completed this spring, The Loop will go under new bridges on both sides of the riverbed.
To build the paths, Arizona Department of Transportation crews had to add more than 12 feet to the existing soil cement along the east and west sides of the riverbed so the path could cross below Ina Road. Soil cement – a mixture of pulverized soil, cement and water – was placed below the existing river bottom to keep water from getting beneath the trail. We've added railing for safety. Paving will take place a few months from now, when we're putting the final asphalt on Ina Road.
These new paths will connect with The Loop north and south of Ina Road. Enjoy!