From the Director: ADOT has special teams responding to traffic incidents
By John Halikowski / ADOT Director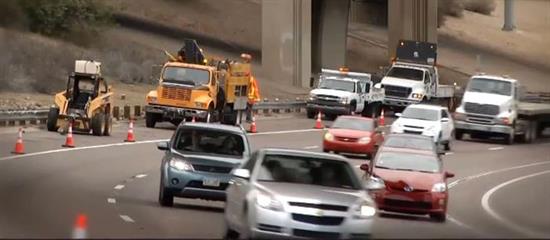 Who do you call when a traffic lane is blocked? The Arizona Department of Transportation ALERT (Arizona Local Emergency Response Team) teams for the Phoenix metropolitan area and highway maintenance teams are the first ones to be called by law enforcement to assist with traffic management. Our alert teams stand beside other emergency responders in the front line of safety when it comes to responding to traffic incidents like crashes.
These men and women are highly trained individuals, especially in traffic incident management procedures and techniques.
Communication is key among law enforcement, first responders and our ALERT teams to make sure everyone knows what to do and to keep everyone safe – including themselves – as they work to clear traffic lanes. If you have heard of the expression "too many cooks in the kitchen, " you can imagine a chaotic scene on a highway if everyone didn't have proper training and know what their responsibilities were in responding to traffic incidents. It's why I value and appreciate what our response teams do every day.
It is important to note that next week is National Traffic Incident Management Awareness Week, Nov. 11-17. This national observance gives us the opportunity to recognize the roles and dangers faced by first responders, i.e. law enforcement, fire, emergency medical services, towing operators, and transportation personnel, in responding to traffic incidents, and for motorists to be alert and drive safely.
I do want to remind motorists of our state's Move Over law that requires motorists to move over one lane – or slow down if it's not safe to change lanes – when approaching any vehicle with flashing lights on the side of a road or highway. I want our employees to come home safely to their families every day.
In 2017 statewide, there were 833 incidents (lanes blocked) that our teams responded to during normal or daytime hours and 1,519 during off hours or at night. So far in 2018 statewide, there have been 697 incidents during normal or daytime hours and 1,430 during off hours or at night.
Will we have a decrease in traffic incidents statewide in 2018 compared to 2017? I call upon everyone to exhibit good driver behavior (obeying traffic laws) and maybe we will see a decrease in the number of incidents our teams have to respond to.
It is comforting to know we have well-trained and experienced ADOT team members who are ready to assist with traffic management. It's a call law enforcement can make 24/7.
---


This post originally appeared on ADOT Director John Halikowski's
LinkedIn page. He has led the agency since 2009.