From the Director: What are Safety Corridors?
From the Director: What are Safety Corridors?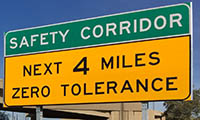 By John Halikowski / ADOT Director
What are Safety Corridors?
To address aggressive and impaired driving, speeding and lack of seat belt use, the Arizona Department of Transportation and our partner agencies are instituting the state's first Safety Corridors. Safety Corridors are highway segments that have more crashes, injuries, and deaths than would ordinarily be expected.
Drivers will see new signage that designates the highway segment as a Safety Corridor. Drivers will also see an increased law enforcement presence in these Safety Corridors, with zero tolerance for violations.
ADOT is working with the Arizona Department of Public Safety and the Governor's Office of Highway Safety in the implementation of these Safety Corridors. We all are striving to make our roadways safer to travel on. However, we all need to do our part in changing driver behavior. I have mentioned before in a previous post about not being a selfish driver. The number of traffic deaths in Arizona in 2016 totaled about 940. Many of these deaths could have been prevented if drivers hadn't engaged in risky behavior – speeding, aggressive, impaired and distracted driving, and not wearing seat belts.
I am grateful for the partnerships we have with the Governor's Office and law enforcement community. Together, we will continue our efforts to reduce the number of crashes, injuries and deaths on our roadways. Safety Corridors represents such an effort. All we ask is for drivers to do their part – be a responsible driver.
Visit the ADOT website to learn where the Safety Corridors are located in the state.
---

This post originally appeared on ADOT Director John Halikowski's
LinkedIn page. He has led the agency since 2009.