A drone's-eye view of our I-10 widening project in Eloy
A drone's-eye view of our I-10 widening project in Eloy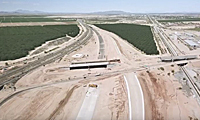 By Tom Herrmann / ADOT Communications
Driving along Interstate 10, about halfway between Tucson and Phoenix, you can see that's something happening off to the east side of the freeway at State Route 87.
Here's a better perspective. John Dougherty, ADOT's newly FAA-certified drone pilot, shot this amazing video to capture the whole project from above.
In less than 10 months, crews have built nearly 4 miles of what will become the new westbound lanes of I-10, bridges over both nearby railroad tracks and the future alignment of I-10, freeway ramps and more.
When the work is done about one year from now, drivers will have six new lanes of I-10, a wider new interchange with SR 87 and a dust-detection zone, the first of its kind on US freeways.
Starting Thursday, Oct. 4, SR 87 will close between I-10 and Milligan Road so we can continue work on the new section of SR 87 and complete the new interchange. The closure is expected to continue until mid-December. Drivers can exit I-10 at Sunshine Boulevard and take Casa Grande-Picacho Highway to SR 87. There are no restrictions on I-10.