Help us stop illegal use of red-dyed diesel
Help us stop illegal use of red-dyed diesel
By David Rookhuyzen / ADOT Communications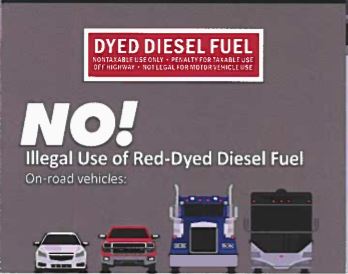 Because if you notice someone putting red-dyed diesel into a personal or commercial vehicle, that's illegal and there is something you can do about it.
Red-dyed diesel is fuel that has been, you guessed it, colored with a red dye. It's intended for use by vehicles that don't use highways, as equipment used for farming, mining or construction. It's illegal to use in vehicles and semis that drive on publicly maintained roads.
So why does it matter if someone is fueling up with red-dyed diesel instead of standard diesel? Because red-dyed diesel is only intended for vehicles that will not be using public roads, it's exempt from the state's gas tax, which funds road and bridge projects in Arizona.
So anyone putting red-dyed diesel into a vehicle that doesn't meet those exemptions is skirting the tax and not paying their fair share to keep highways maintained.
Detective David Audelo, acting supervisor of the Fuel Tax Evasion Unit for ADOT's Enforcement and Compliance Division, said red-dyed diesel pumps are clearly marked as "off road use only" and visible to anyone filling up at a gas station.
If drivers see a violation, they should write down as much information as they can about the offending vehicle and take a photo if possible, but do not confront the driver or put themselves in harm's way, he said. 
Those who see people using red-dyed diesel illegally can report it to the Fuel Tax Evasion Unit by calling 877.293.8357 or going to azdot.gov/RedDiesel. 
A first-time offender could face a fine of $1,000 or $10 per gallon of the capacity of the fuel tank, whichever is greater, along with possible criminal charges and civil penalties. Those fines will be multiplied if a person has multiple violations.