Historic Highway 286 reaches ranches, tiny border town of Sasabe
Historic Highway 286 reaches ranches, tiny border town of Sasabe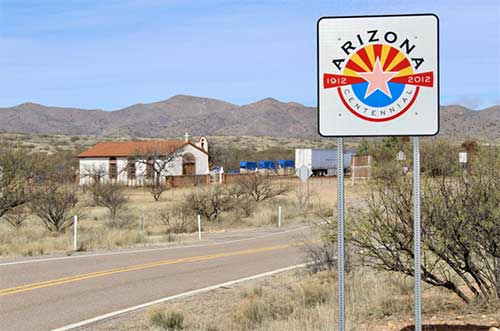 By Peter Corbett / ADOT Communications
State Route 286 runs out of Arizona real estate on the edge of Sasabe, a tiny outpost on the border with a general store, post office and end-of-the-road tranquility.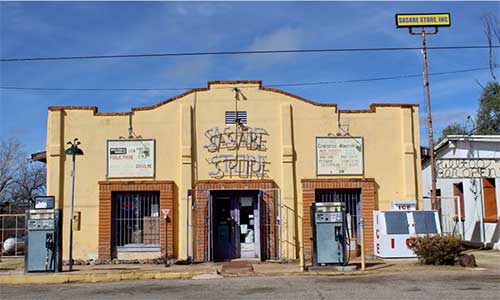 To the south is Sonora and a border crossing station into Mexico that looks like a state park visitor center. To the north, 45 lonely miles through the Altar Valley, is tiny Robles Junction, also known as Three Points. It's another 30 minutes east on the Ajo Highway, SR 86, to reach Tucson.
This is the historic Sasabe to Robles Junction Highway, a route that follows the early trails of Jesuit missionaries who traveled this region in the 18th century led by native peoples, including the Tohono O'odham.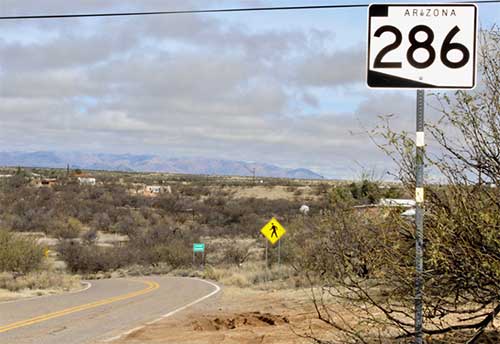 The tribe's reservation is beyond the Baboquivari Mountains that line up on the horizon west of SR 286. Kitt Peak National Observatory is a northern bookend in the Quinlan Mountains.
SR 286 is a lightly traveled but well-maintained two-lane highway that's been in the state system since 1955.
There's been a border crossing at Sasabe since 1916. The town was known as San Fernando until sometime in the 1930s. A red-brick border station built in 1937 is on the National Register of Historic Places.
SR 286 serves a number of old Arizona ranches. Rancho de la Osa (bear) is a guest ranch near Sasabe that opened in 1926. The Miller family has run the Elkhorn dude ranch seven miles west of SR 286 for nearly 75 years.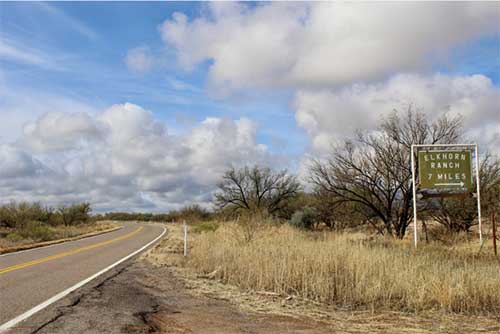 Bird-watchers and other nature enthusiasts are drawn to the Buenos Aires National Wildlife Refuge with 117,000 acres of desert grasslands and wetlands along the highway. It was established in 1985 to reintroduce the masked bobwhite quail to the habitat.
Where the Arizona road ends, Sasabe welcomes a trickle of visitors from north and south of the border. It is Arizona's least-busy border crossing. The port of entry is open from 8 a.m. to 8 p.m.
Sasabe's town square, where the road curves to the west, consists of the Sasabe Store, Hilltop Bar and an adjoining post office – ZIP code 85633 – that's landscaped with ocotillos taller than the adobe building. The store is in a 1920 building and has been operated by the same family since 1932.
SR 286 as it runs north from Sasabe descends from an elevation of 3,500 feet to about 2,500 feet at Robles Junction. The highway roughly parallels Interstate 19, which links Tucson and Nogales to the east. Arivaca Road, which passes through the historic town of Arivaca, connects SR 286 to I-19. Arivaca Road is at milepost 12 on SR 286.