I-17 pavement improvement project in north Phoenix is completed on schedule
I-17 pavement improvement project in north Phoenix is completed on schedule
By Doug Nintzel / ADOT Communications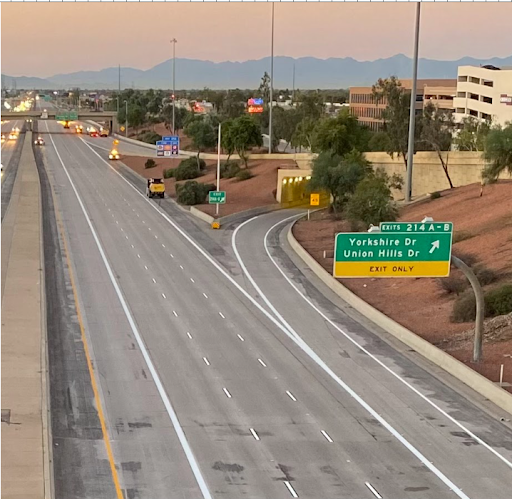 Just in time for the fall travel season, highway crews working for ADOT have finished the Interstate 17 pavement improvement project between Dunlap Avenue and Deer Valley Road. How important is that?
Well, drivers who regularly use that stretch of I-17 in north Phoenix on weekends can bid farewell to the full closures of the freeway, in either direction, that were needed over the past year while work was taking place to create a much smoother ride.
Yes, the project started in September 2022 and was completed on schedule. And now you can say so long to those detours along 19th or 35th avenues, or the recommended detour along State Route 51. 
If you have travel plans between Phoenix and northern Arizona communities, including Prescott, Sedona and Flagstaff, you don't need to double check to see if a closure is scheduled within the project's limits. We still want you to sign up for the free email delivery of ADOT's Weekend Freeway Travel Advisory and check az511.gov before you go enjoy those fall colors.
As for the project itself, we certainly know that many drivers had experienced the rough ride on the aging asphalt pavement that has now been removed. The milling of the old pavement made a big difference even as the project was underway.
Ultimately, this was a diamond grinding project. Crews used specialized machinery to grind off a thin layer of the I-17 concrete pavement to provide improved smoothness while also adding grooves that help absorb tire noise. 
The project also included bridge deck improvements, including application of a crack sealant, repairs of concrete pavement spalling and installing new metal armor expansion joints on the freeway bridges traveling over Peoria Avenue and Greenway Road. And a project like this also provides all new lane striping and other pavement markings.
It's all another example that a lot can happen in just a year's time. Thank you for your patience if I-17 in north Phoenix is one of your routes. Please be an alert driver and focus on safe driving while using this improved stretch of the Black Canyon Freeway.