Infrastructure Week: Keeping traffic flowing is a straddle bent's job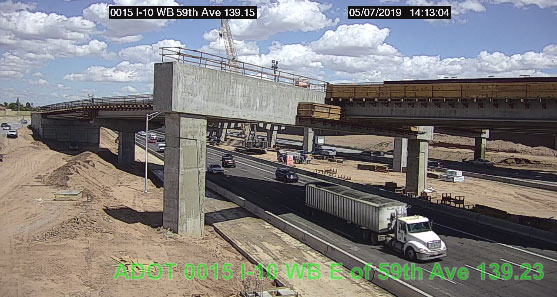 EDITOR'S NOTE: During Infrastructure Week 2019, we're highlighting aspects of construction, improvement and maintenance that are part of Arizona's $22.4 billion investment in state highways. Today, examine the straddle bent and its role in freeway interchanges.
By Dustin Krugel / ADOT Communications
Creating the Loop 202 South Mountain Freeway's interchange with Interstate 10 in west Phoenix is no small feat of engineering, starting with the need to have supports for flyover ramps straddle existing lanes of traffic.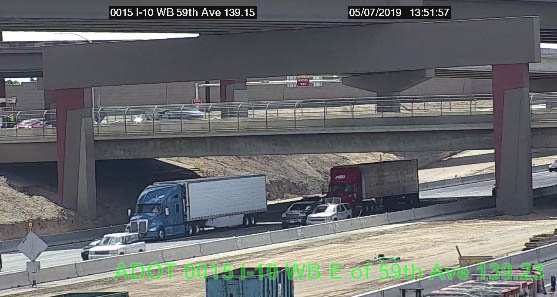 As is the case at other freeway-to-freeway interchanges around the Valley, this is being done with a structure known as a straddle bent. This is a helpful alternative when a typical one-column pier carrying a ramp would need to be in the middle of an existing roadway. The straddle bent has multiple columns supporting a wide top, or cap, that in turn supports a ramp.
In construction, "bent" refers to a structure providing lateral as well as vertical support. In all, the South Mountain Freeway/I-10 interchange in west Phoenix uses seven straddle bents, including the ones shown at top and at right.
Straddle bents are part of the freeway connections Valley motorists use every day. The flyover ramp from eastbound I-10 to northbound State Route 51 (Piestewa Freeway) in central Phoenix has a bent straddling the westbound lanes of I-10, while HOV ramp connections between those two freeways use three straddle bents over westbound I-10.
After completing the straddle bents and piers, crews placed girders to support ramps that will connect the freeways. We shared recently that crews had placed the last girder for the interchange, though plenty of work remains to finish the ramps.
Straddle bents create some very artistic views along freeways, as our John Dougherty shared in this 2017 blog post and in the photos used to create this slideshow: