Let's make NCAA championship rush hour a slam dunk for all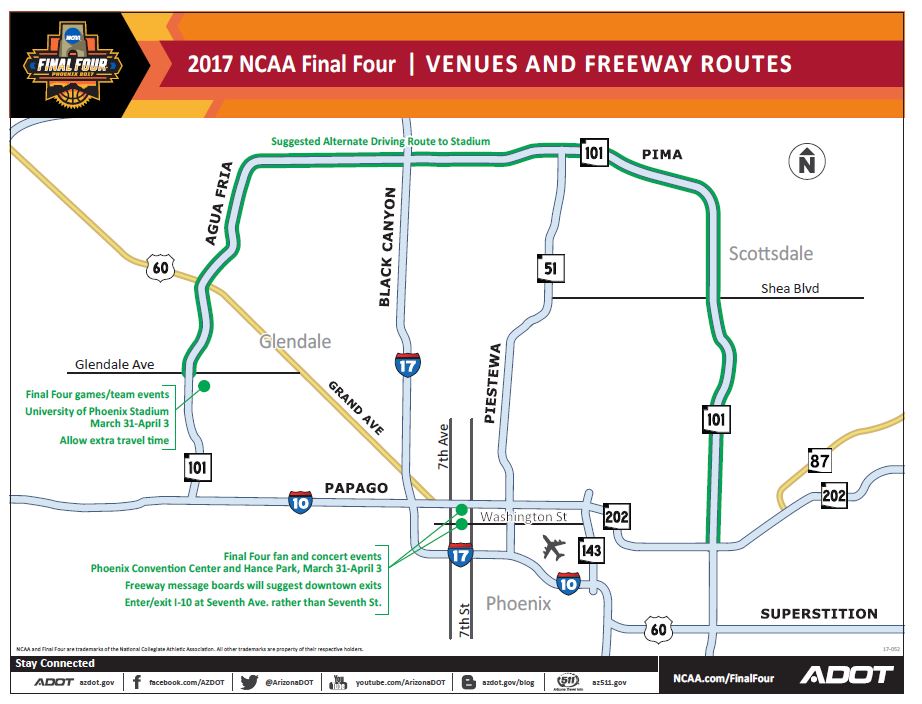 By Tom Herrmann / ADOT Communications
For the fans of South Carolina, Gonzaga, Oregon and North Carolina, this has the chance to be one of the best weekends of their lives. A national championship is just a few days away for one of those schools.
For the rest of us, Final Four events leading up to Monday's championship game in Glendale should be a slam dunk. We've done this before.
Super Bowls. The 2016 NCAA football championship game. The Fiesta Bowl. NFL playoff games and weeknight Cardinals games. Go back to 2001, and there's even a fantastic World Series.
We're fortunate to host such events. It's great to have the attention of the sporting world on our beautiful state. Millions of people will see images of cactus at sunset and mountains in the distance.
But isn't this a recipe for trafficpocalypse? After all, having more than 60,000 people headed to Glendale at the same time as the typical Monday evening commute could mean a full-court press on westbound Interstate 10.
Our history says that won't happen if everyone, from ticketholders to commuters, plans ahead. If you're going to the championship game, plan on arriving early. Parking lots will open at 1 p.m., tailgate events reserved for ticketholders begin at 2 p.m. Tipoff is scheduled for 6 p.m.
If your commute usually involves I-10 in the West Valley, consider adjusting your hours so you can be on the road before or after Final Four traffic. Telecommuting would be an even better if that's an option for you. A northerly route on Loop 101 from Interstate 17 or all the way from the East Valley is another way for ticketholders and commuters to reduce traffic on I-10 West.
There are events beginning Friday and lasting through the weekend in Glendale and in downtown Phoenix. ADOT will update you on freeway conditions throughout via Twitter (@ArizonaDOT) and Facebook (facebook.com/AZDOT). Check our electronic message boards, visit ADOT Traveler Information at az511.gov or call 511 for critical information.
Here are other sources to help you plan your Final Four travel:
Phoenix.gov/FinalFour has resources for getting around downtown Phoenix.
ValleyMetro.org/FinalFour helps you plan trips via public transportation.
On Twitter, @GlendaleAZPD will have local traffic conditions in real time.
Enjoy! After all, the Final Four and Phoenix go together a lot better than peas and … you know.