Levels of environmental clearance
Levels of environmental clearance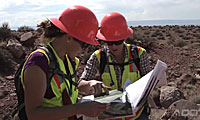 When it comes to building a road or a bridge or a really tall interchange, there's a lot of planning that has to happen before construction can even begin…
And when it comes to stating the obvious, we've really done it in that last sentence.
Because, of course constructing roads, bridges and interchanges takes plenty of planning. However, a project's planning phase can include many components – some might not be so familiar.
Take the environmental clearance process for example.
This is a big step that has to be cleared before construction can begin. It's part of the National Environmental Policy Act (NEPA), which was passed in 1969 in an effort to make sure all levels of government take the environment into consideration when developing projects that include federal involvement.
There's a lot to say on this subject, but for today, we're just going to stick to writing about three types of documents that help agencies (including ADOT) determine how to comply with NEPA.
Environmental Impact Statement
We've blogged about Environmental Impact Statements before in 2011. Back then, we explained that projects likely to have a significant impact on the surrounding environment are subject by NEPA to the Environmental Impact Statement process.
Basically, it includes a vast look at potential impacts a project could have on its surroundings. Several things are taken into consideration, including archaeological/historic sites, vegetation, wildlife, air and water quality, social conditions, economics and floodplains.
Here's a good description, straight from the Federal Highway Administration website: "An EIS is a full disclosure document that details the process through which a transportation project was developed, includes consideration of a range of reasonable alternatives, analyzes the potential impacts resulting from the alternatives and demonstrates compliance with other applicable environmental laws and executive orders."
The EIS process has several steps, including Notice of Intent, draft EIS, final EIS and record of decision (ROD).
"The ROD identifies the selected alternative, presents the basis for the decision, identifies all the alternatives considered, specifies the 'environmentally preferable alternative,' and provides information on the adopted means to avoid, minimize and compensate for environmental impacts," according to the FHWA website.
Environmental Assessment
An environmental assessment is prepared when it is uncertain whether a project will cause a significant impact to its surroundings.
According to FHWA, this is a public document that sums up whether or not the more detailed EIS process is required.
If it's determined the project in question will make no significant impact on the surrounding area, a "Finding of No Significant Impact" (FONSI) will be issued.
If, during the environmental assessment, it's determined the project will have a significant impact, then an EIS must be prepared.
Categorical Exclusion
This one may be the easiest to explain, because it is the document prepared when a project does not involve significant environmental impacts.
These are projects that do not:
induce a significant impact to planned growth or land use for the area
require the relocation of significant numbers of people
have a significant impact on any natural, cultural, recreational, historic or other resource
involve significant air, noise, or water quality impacts
>have significant impacts on travel patterns
and otherwise, either individually or cumulatively, have significant environmental impacts
Before we wrap up, we have to be sure to mention that each step along the way includes different levels of public participation. These may include hearings and public comment periods. You can read more about ADOT, public involvement and NEPA by reading through our previous blog posts.