Loop 101 closed south of Ray Road in Chandler this weekend for pedestrian bridge work
Loop 101 closed south of Ray Road in Chandler this weekend for pedestrian bridge work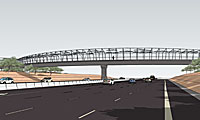 Bridges aren't just for cars, you know – ADOT builds bike/pedestrian bridges, too.
In fact, there's one under construction right now that's being built in partnership with the city of Chandler. It's on Galveston Street (between Ray Road and Chandler Boulevard).
Once complete, the new bridge will span over the Loop 101 and will serve as a connection between the Galveston Street bicycle lanes located on both sides of the freeway.

Weekend closure
In order to install portions of the bridge this weekend, a full closure of Loop 101, in both directions, between Ray Road and Loop 202 (Santan Freeway) will be necessary. The closure will be in effect beginning 11 p.m. Friday, July 26 to 5 a.m. Monday, July 29. In addition, both Loop 202 ramps to northbound Loop 101 also will be closed, along with the southbound Loop 101 on-ramp at Warner Road.
During the closure, traffic will be detoured along the Price frontage roads in the area. Traffic will be able to connect between Loop 101 and Loop 202 at the Price Road intersection with the Santan Freeway.
More about the project
Even though construction just started this spring (and is expected to be complete by late fall), the idea for this project actually originated back in 1999 during the update of Chandler's Bicycle Plan. The project was eventually added to the city's Capital Improvement Program in 2005, following approval by a seven-member Citizen Transportation Commission and the City Council.
The partnership between the city of Chandler and ADOT is spelled out in an intergovernmental agreement, but basically it means that ADOT will handle construction of the bridge, along with any structural repairs and Chandler will be responsible on-going maintenance. The bridge's construction cost will be paid for with Congestion Mitigation and Air Quality grant funds.
A few fun facts
The bridge's total length will be 1,145 linear feet, which includes the span over the freeway, the spans over the northbound and southbound frontage roads, and the ramps.
The bridge will be 10 feet wide.
210,000 pounds of structural steel will be used to build the bridge.
364,000 pounds of reinforcing steel will be used (for placement in the concrete) during construction
1,000 cubic yards of structural concrete will be required for construction of the bridge.
LED (Light Emitting Diode) lighting will be used to light the bridge.
A piece of the bridge (the center pier) was actually constructed more than four years ago when ADOT built an HOV lane on the Loop 101 freeway. Including the pier in the 2009 HOV lane project saved time, money and the need for additional closures in 2013.
For more on the project, visit ADOT's website … we'll also be sure to keep you updated on the project's progress here on the blog.