Make mummy proud this Halloween: Buckle up, pay attention
Make mummy proud this Halloween: Buckle up, pay attention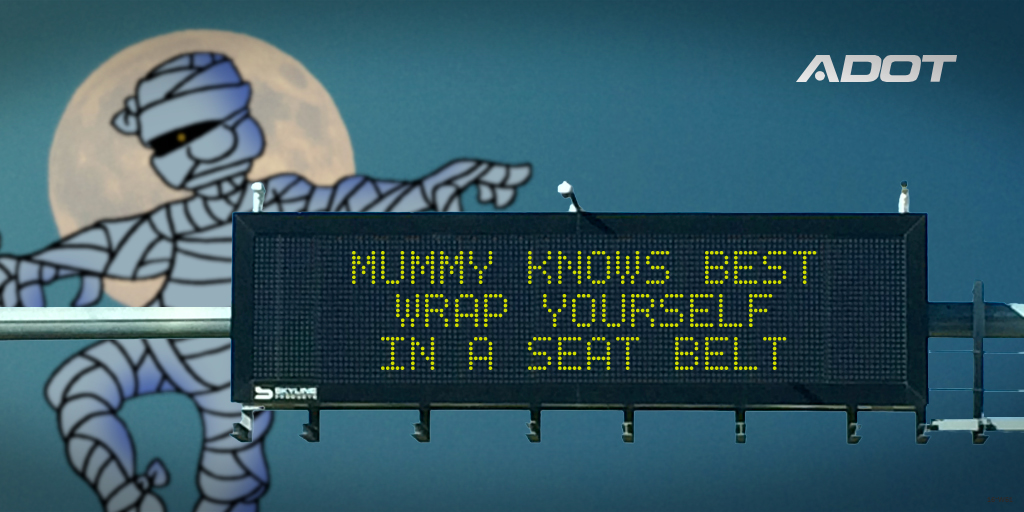 By Doug Pacey / ADOT Communications
In addition to promoting this message coming soon to overhead signs near you, ADOT is sharing some advice to help your Halloween commute – and the ghosts and goblins you may encounter along the way:
If possible, try to make an earlier start in the afternoon to avoid the scariest traffic. Freeway traffic builds between 4-6 p.m. in what has come to be known as the "witching hour."
Be patient and recognize that it may take longer to get home. Take your time.
Don't let down your guard when you're nearing home. Remember: superheroes, princesses and too-old-to-be-trick-or-treating teenagers will be crossing streets in your neighborhood and might not be paying attention.
As for the overhead message: Failing to wear a seat belt is one of the leading factors in traffic deaths on Arizona's state highways, county roads and city streets. In 2015, 29 percent of the 895 people killed in vehicle crashes in Arizona weren't wearing seat belts.
Make your mummy proud. Buckle up, and drive with care – on Halloween, and every day.