A match made in PR heaven: Arizona and (real) copper license plates
A match made in PR heaven: Arizona and (real) copper license plates
By Steve Elliott / ADOT Communications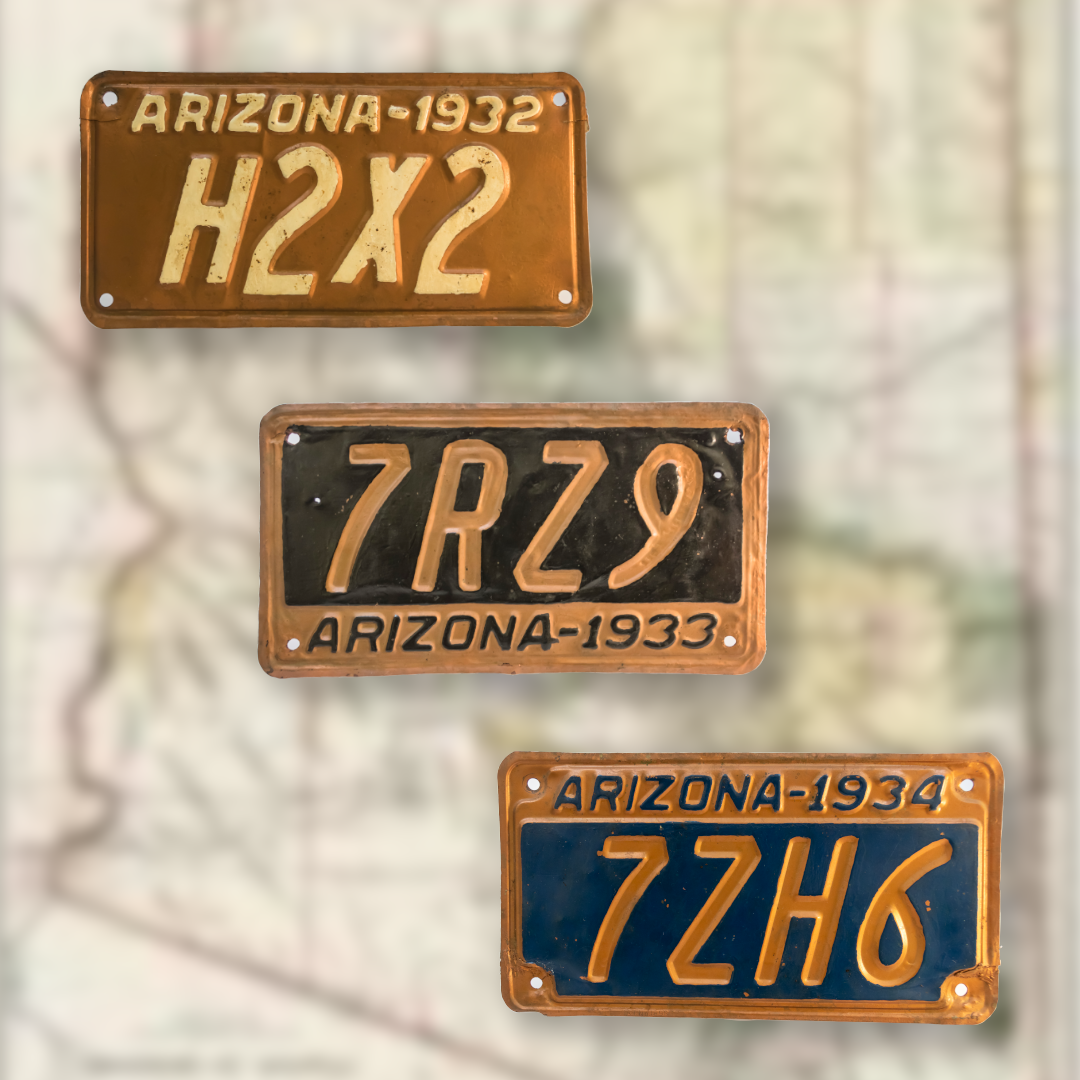 Arizona and copper go together like – well, like Arizona and copper. Copper drove Arizona's early economy, giving rise to communities such as Bisbee, Globe, Miami, Morenci, Ajo and Jerome. Copper adorns the dome of our State Capitol. When leaders debated nicknames for Arizona, strong arguments were made for Copper State. 
So it seems appropriate – in terms of state pride, if not durability – that the Arizona Highway Department for a time made license plates from copper. With the nation in the grip of the Great Depression, the Arizona Highway Commission switched from steel plates in 1932 to support the state's copper industry. At the time, Arizona issued new plates every year.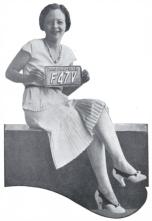 The September 1931 edition of Arizona Highways magazine had an article featuring a picture of Miss Arizona Helen Brow holding a sample 1932 copper plate. "Arizona has set all the states of the Union an example of patronizing home industry as a means of ending the depression," Arizona Highways proclaimed.
The copper plates were made smaller so they'd cost about the same as steel. "By substituting two letters for numbers it was found that an attractive plate could be made with dimensions of five by ten inches," the article said. 
Seventy-thousand pounds of Arizona copper would be needed to produce the 1932 plates, and highway commissioners were said to have urged other states to consider using copper. There's no indication that any did. 
Arizona stuck with copper plates for 1933 and 1934. The 1933 design had copper letters on a black background, with copper as the border. A picture in the January 1934 edition of Arizona Highways shows Hollywood actress Gail Patrick holding the 1934 Arizona license plate, which had copper lettering on a blue background, surrounded again by copper.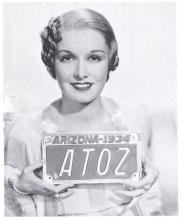 The Arizona Capitol Museum has all three copper plates and graciously made them available for the picture atop this post. 
Copper plates appear to have been at least a public relations success. Returning from a 3,000-mile driving trip in September 1932, Louis L. Billar, official reporter for the Arizona Corporation Commission, told The Arizona Republic that his copper plates were "Arizona's best transcontinental advertisements."
"Wherever I went, I found more persons interested in the car's copper license plates than in the license plates of any other state," Billar told the newspaper. "They appeared to me to be a good advertising medium for Arizona, and because of them many questions regarding the state were asked." 
In August 1933, The Border Vidette in Nogales highlighted this shout-out from the National Geographic Society in Washington, D.C.: "With copper selling at a few cents a pound these plates are not only inexpensive but, with their black lettering, they make a striking appearance on the road."
Not everyone was enthusiastic about copper license plates, however. Some grumbled – accurately – that copper was neither as strong nor as durable as steel. In its March 1932 edition, Arizona Highways clapped back at a newspaper editor who groused that people ought to nail their copper plates to wood before affixing them to automobiles. A trade publication for steel mills picked up this editor's screed, and the steel lobby shared it widely.
"Because a copper plate is pliable, the wise ones, right at the beginning, knew they would not last," Arizona Highways responded. "It is true they bend a little easier than the iron plate, but they are easily straightened and they do not readily crystallize. Besides, a license plate is not intended to be a bumper on an automobile, but is supposed to be in a protected place."
Despite celebrating and defending the use of copper, the Highway Commission decided to go back to steel for 1935 license plates. From the minutes of its September meeting: "It was brought out that a great amount of breakage on hangers had been noticed with the copper plates and the Commission favored steel plates on account of their mechanical strength." An Associated Press story on the decision simply noted that copper plates broke easily.
Fast forward nearly 90 years and you can still use your license plate to support a cause near and dear to you. Elected leaders have created nearly 100 specialty plates you can peruse on our website and order at azmvdnow.gov/plates. A portion of the proceeds goes to a charitable cause associated with each plate.
Unlike those feel-good days of copper plates in the early 1930s, today's license plates are made of sturdy aluminum. So you can feel good about supporting a worthy cause and be confident that your license plate will complete the trip with you.