More Loop 303 improvement projects are on the way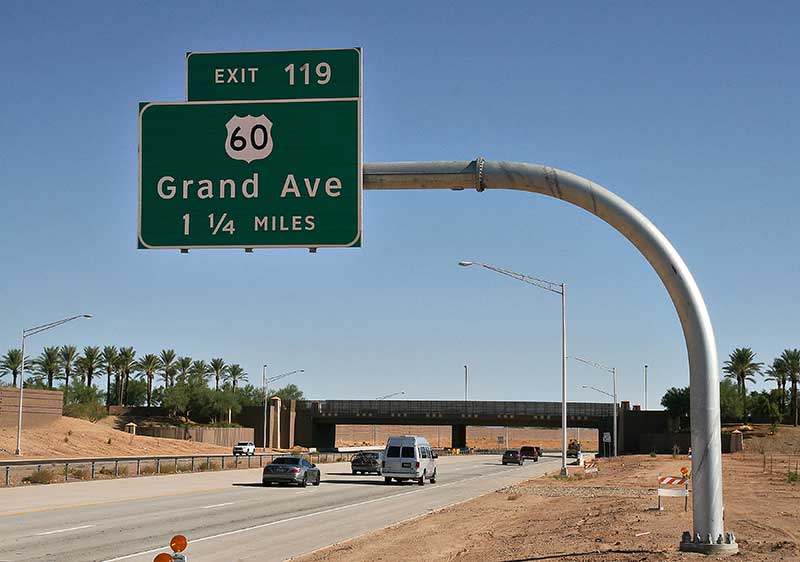 When we last left off with the Loop 303, all ramps had just opened at the freeway's I-10 traffic interchange. Months later, more improvements are still on the way…
We're talking about three new projects, all north of the Loop 303/I-10 interchange, stretching from US 60 (Grand Avenue) to Happy Valley Parkway. Each project is designed to help improve traffic conditions in the northwest valley. We'll definitely have more information on each of these projects in the months to come, but for now, here's a quick overview of what drivers can expect.
Loop 303 / US 60 (Grand Avenue) Traffic Interchange
Construction to improve and expand the traffic interchange linking Loop 303 and US 60 (Grand Avenue) in Surprise began this week.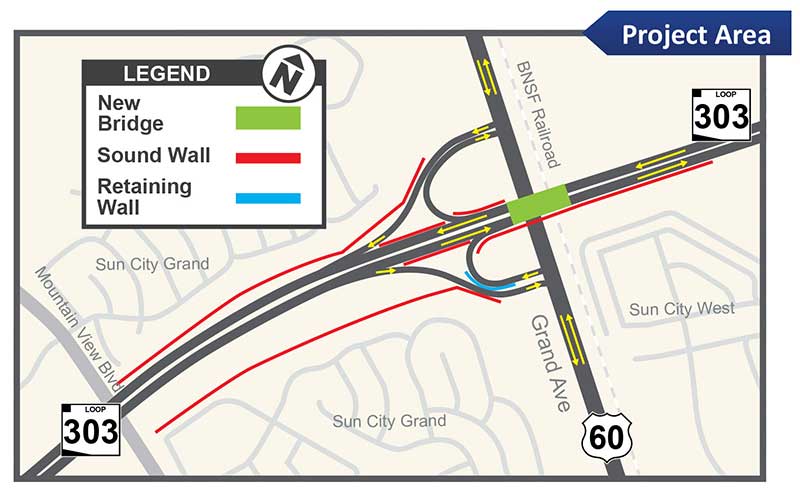 This project will widen Loop 303 into a six-lane freeway between Mountain View Boulevard and the US 60 traffic interchange and add a new bridge next to the existing Loop 303 bridge over Grand Avenue. When completed, the new span will carry three new northbound/eastbound Loop 303 lanes, allowing the existing bridge to carry three southbound/westbound lanes.
The improved interchange will feature new on- and off-ramps connecting Loop 303 and US 60. The project also will allow for the removal of the last traffic signal along the mainline of the 36-mile stretch of Loop 303 between Interstate 17 in north Phoenix and Interstate 10 in Goodyear.
As work kicks off, one of the first things that drivers will notice is the construction of sound walls.
This week, crews will start construction of the sound wall on the west/southbound side of Loop 303 between Mountain View Boulevard and US 60. Construction of the sound wall on the east/northbound side of Loop 303 between Mountain View Boulevard and US 60 is anticipated to start in January 2015.
Other initial work starting this week includes shoulder improvements along the south side of Grand Avenue near the interchange. Crews are scheduled to begin closing the left lanes of Grand Avenue in both directions on Wednesday, Dec. 10, starting at Sunrise Boulevard and moving north for median work.
Grand Avenue traffic will be shifted to the wider south side of the roadway by early January, allowing two travel lanes in each direction between 163rd Avenue and Sunrise Boulevard. The speed limit on this section of Grand Avenue will be reduced from 55 to 45 mph throughout the duration of the 18-month project. Drivers are reminded to slow down and be alert when traveling in the work zones.
Loop 303 – Grand Avenue to Happy Valley Parkway
Right now, construction is underway to widen the Loop 303 from a four-lane to a six-lane (three in each direction) freeway between Grand Avenue and Happy Valley Parkway in Peoria. Sound walls are also a part of this project.
The roadway improvements will be utilizing material from the existing roadway and the lanes will have a rubberized asphalt paved surface once complete.
Loop 303 / El Mirage Traffic Interchange
Finally, there's the Loop 303/ El Mirage Traffic Interchange. Construction is expected to start in early 2015 on this project that will add a Loop 303 traffic interchange at El Mirage Road.
When this project is finished, Loop 303 traffic will travel over El Mirage Road as part of the new interchange, which will include on- and off-ramps connecting the two roadways. Sound wall construction, new freeway lighting and drainage improvements are also part of the plan.
Stay updated
All three of the Loop 303 projects in the northwest Valley are scheduled for completion by summer 2016.
If you're interested in learning more about previous projects on the Loop 303, revisit some of our previous blog posts.