New HD freeway cameras bring clarity to your commute
New HD freeway cameras bring clarity to your commute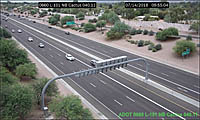 By Garin Groff / ADOT Communications
As the clock ticks closer to 5 p.m., your thoughts shift from work to what's next in the day. Is there anything in the fridge for dinner? Did that package from Amazon arrive? And how long will it take to drive home?
While ADOT can't help with the first two questions, we've got something new to give you a clearer view of your commute on the freeway. We've recently upgraded a couple stretches of traffic cameras to high definition on Loop 101 in the East Valley, giving you a better picture of what you're facing even before you get behind the wheel.
Several of the HD cameras are on the Pima freeway segment of Loop 101 in Scottsdale, between Cactus Road and Princess Drive. Also, the Loop 101 Price freeway passing though Tempe, Chandler and Mesa has new cameras between the Red Mountain and Santan segments of Loop 202.
You can check out the cameras at our Arizona Traveler Information site, az511.gov.
We've put the cameras online for the benefit of drivers, but they serve another purpose. Our more than 300 cameras are placed along highways so ADOT's traffic operators and troopers with the Arizona Department of Public Safety can monitor traffic conditions. The cameras allow us to more quickly update overhead message boards to alert drivers to conditions we're seeing thanks to the improved view provided by the new cameras.