New visual animation shows how the Broadway Curve Improvement Project will transform I-10, State Route 143 and US 60
New visual animation shows how the Broadway Curve Improvement Project will transform I-10, State Route 143 and US 60
By the Broadway Curve Project Team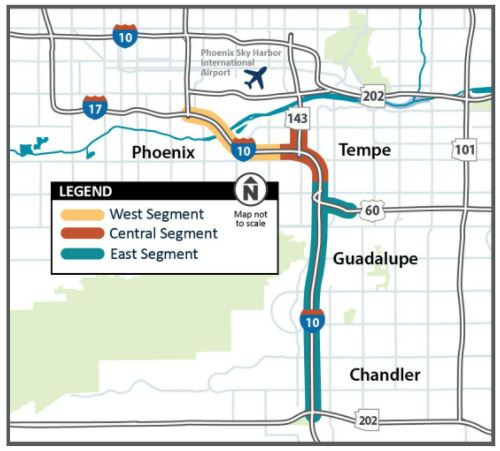 Having trouble visualizing all the enhancements and new features planned for the I-10 Broadway Curve Improvement Project? You're not alone; it can be hard to imagine what a project of this size and scope will look like in three years.
A new project video in English and Spanish provides a glimpse at what motorists and others in the region can expect when construction is completed in late 2024.
The Arizona Department of Transportation is reconstructing 11 miles of I-10 between Loop 202 (Santan/South Mountain Freeway) and Interstate 17. Additional work will take place on one mile of east- and westbound US 60 between I-10 and Hardy Drive and one mile of north- and southbound State Route 143 between I-10 and the bridge over the Salt River. It's the largest ever urban freeway reconstruction project to date in Maricopa County. 
The completed project will bring extra general purpose and HOV lanes, several new and widened bridges, improved airport access, Collector-Distributor roads, new and improved bridges for pedestrians and bicyclists, ramp upgrades and more.