A plank road was once the way between Yuma and San Diego
A plank road was once the way between Yuma and San Diego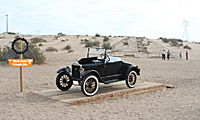 By Peter Corbett / ADOT Communications
Arizonans think nothing of a quick weekend drive from Phoenix to San Diego's beaches in about six hours. But a century ago, that trip could take the better part of two days across primitive roads and nearly impassable sand dunes.
Horses were more reliable for traversing sand dunes until enterprising road builders came up with a boardwalk for motorcars in 1915.<
That's right. Early adopters of horseless-carriage technology built a road of wooden planks across seven miles of sand west of Yuma in California. Arizona notably did not follow California down the path of building wooden roads.
The Plank Road and the Colorado River bridge at Yuma, completed in April 1915, were key steps forward for motorists traveling across the Southwest deserts in the early 20th century. Those advancements also were factors in competition between San Diego and Los Angeles to be the western terminus for a cross-country highway along a southern route.
The Colorado River State Historic Park in Yuma has a Plank Road display with a Model T automobile. There's also a preserved section of the Plank Road at the Bureau of Land Management's Imperial Sand Dunes Recreation Area south of Interstate 8 on the Gray's Well Road about 12 miles west of Yuma. That's where these Bureau of Land Management photos were taken.
Plank Road skeptics like civil engineer Joseph Lippincott, an Auto Club of Southern California consultant, pegged the wooden highway as "the most asinine thing he had ever heard of," according to a San Diego Tribune report at the time.
But the road, despite its flaws, carried traffic for more than a decade until it was replaced in 1926 by an asphalt road that became US 80 and more recently Interstate 8.
One Yuma merchant praised the Plank Road. "It is no ride across the Sahara Desert, but rather a pleasure trip anyone can enjoy," the man said, according to B. Johnny Rube in his 1996 book A Wooden Road Through the Hollow of God's Hand.
Initially, the Plank Road was boards laid in parallel tracks to provide a path for adventurous drivers. In 1915, the California Highway Commission took over the Plank Road, installing 12-foot by 8-foot wooden sections on the dunes west of Yuma.
The knock on the one-lane Plank Road was that it forced drivers traveling in opposite directions to use pullouts every 1,000 feet to pass each other. Maintenance was a constant problem as horse-drawn scrapers were used to clear the sand, which damaged the planks and made for a rough ride. Sand drifted across the planks and drivers would "lose" the road and end up stuck in the sand. That created commerce for the Fort Yuma Quechan Indians whose horses served as the tow trucks of the era, pulling cars out of the sand and back onto the Plank Road, said Tina Clark, historian of the Yuma Crossing National Heritage Area.
The Plank Road was an extension of previous methods early motorists used to get through sand dunes and other difficult terrain.
In 1910, the National Highway Association employed a pathfinder named A.L. Westgard to explore cross-country routes from Washington, D.C., to Los Angeles. He's been described as the "Marco Polo of the Motor Age."
While scouting a route called the Trail to Sunset , Westgard used rolls of canvas on the sand to get across the Yuma dunes. He later carried wooden planks on his vehicle to get across sand or mud flats, according Arizona Highways, published by the Arizona Department of Transportation.