Portion of Loop 303 will close for traffic switch this weekend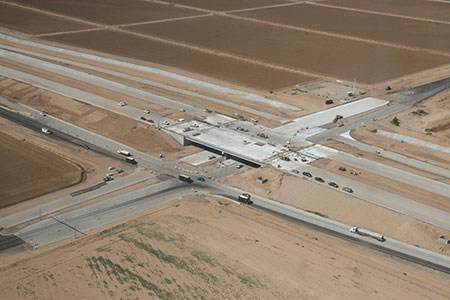 The last time we checked in on the Loop 303 project, crews were getting ready to initiate a traffic switch on a segment between Mountain View Boulevard and Peoria Avenue…
Today, as ADOT gears up for another traffic switch (this one is between Glendale and Peoria Avenues), we thought we'd take one more look at all the progress that's happening on the project.
But first, let us fill you in on what you'll need to know for this weekend.
Loop 303 is going to be closed between Cactus Road and Glendale Avenue from 9 p.m. tonight (Sept. 13) to 5 a.m. on Monday (Sept. 16).
Glendale Avenue and Cactus Road will remain open to east-west traffic. Drivers can use Sarival Avenue as a detour.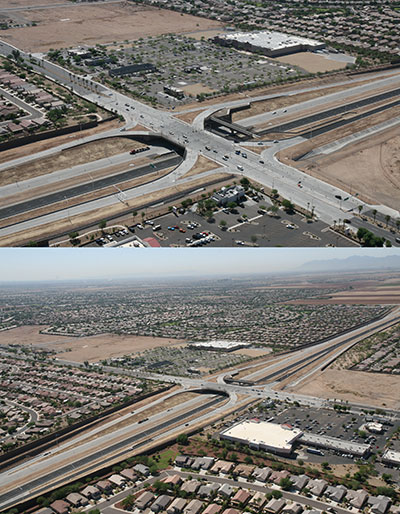 After this freeway work is completed, rubberized asphalt will be in place and drivers will be able to use three lanes in each direction as well as the overpasses at Peoria, Olive and Northern avenues (traffic currently travels on one lane in each direction from Glendale Ave. to Peoria Ave.).
This is a major milestone for the project that, when complete, will provide a fast and convenient travel option for West Valley motorists.
The Loop 303 was once a two-lane roadway that is transforming into a modern freeway (with three travel lanes in each direction between I-10 and I-17!).
Looking ahead
Over the next two weekends, workers will return to place rubberized asphalt on northbound lanes between Peoria Avenue and Mountain View Boulevard, with full northbound closures on Loop 303 to facilitate this work.
Once that work is complete, all three northbound lanes will open to traffic and that portion of the project will be finished (another major milestone!).
For a look at the project's evolution, check out our previous posts.