Secure your load: A PT Cruiser's roof, a sofa and twine don't mix
Secure your load: A PT Cruiser's roof, a sofa and twine don't mix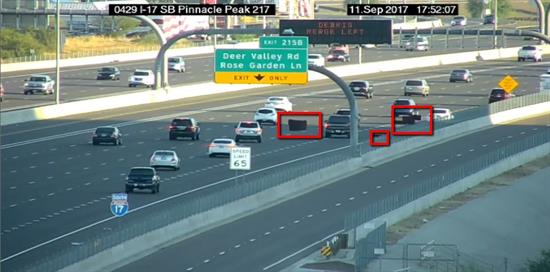 By Mary Currie / ADOT Adopt a Highway
One day last week while stopped at traffic signal, I watched a purple PT Cruiser drive from the opposite direction, take the left-turn signal and drive through the intersection past my car. Nothing unusual in that – except for the brown leather sofa attached to the roof by two pieces of twine.
"Awkward" and "OMG" were two thoughts that popped into my head. Too often, ADOT's Twitter account alerts the public to sofas on freeways, including the one shown above, and no doubt many of those dangerous incidents begin with the poor planning this driver demonstrated.
As the car lumbered around the corner, I watched the sofa shift slightly. Realizing that I was holding my breath, I exhaled as I watched the vehicle drive onward with the load still intact. Barely.
If this was you, I want you to know that the commuters on either side of me were left breathless too. Automobile roofs are not meant to secure furniture, and you were gambling your safety and the safety of others in expecting that sofa to make it to your destination.
A sofa launching into an intersection or falling where a trailing vehicle might hit it can lead to serious injuries – or worse – for other drivers and pedestrians.
Spring and summer are busy moving times for college students and families. The stuff people tote around during these moves is important. So beg or borrow a truck, or dig lost change out of that sofa and rent a truck. Then securely tie down your items.
Yesterday was Arizona Secure Your Load Day, when ADOT reminds you that debris on freeways causes 51,000 accidents in the U.S. every year, injuring nearly 10,000.
Please be a responsible mover. We want you to make it to your destination safely so you can enjoy the important stuff in life, including that large leather sofa I last saw precariously perched atop a PT Cruiser heading into the distance.
---

EDITOR'S NOTE: The author oversees ADOT Adopt a Highway programs.