Shaping the future of Pima County freeway travel
By Tom Herrmann / ADOT Communications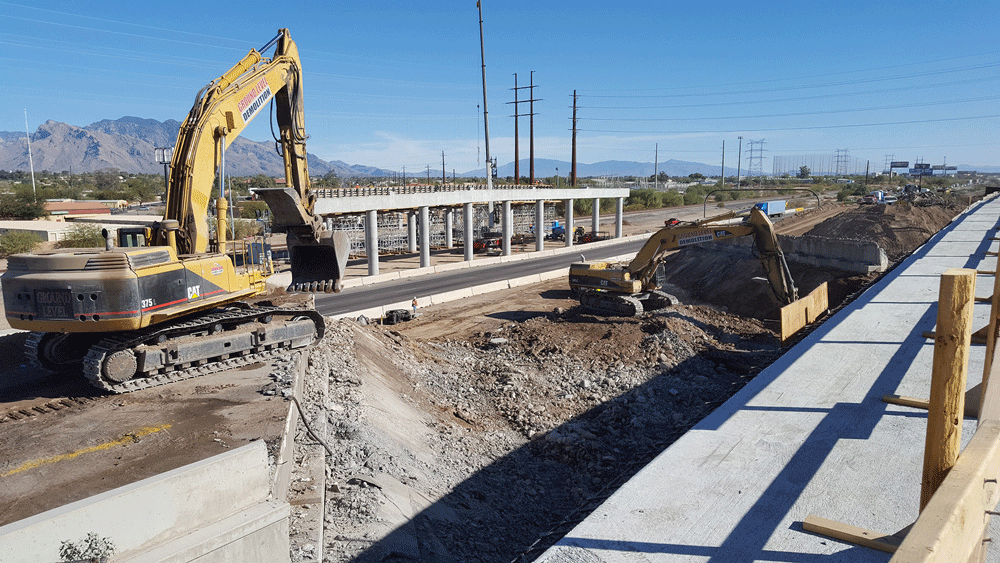 In 1965, as Interstate 10 was first making its way through Pima County, the bridge over Ina Road was among the first to be completed.
On the first Friday morning of 2018, that bridge came down to make way for a newer, wider, safer traffic interchange.
The flurry of activity that brought down the bridge was the first of many big steps that will shape the future for many years to come.
The Ina Road project – including new bridges to carry Ina Road over I-10, Union Pacific Railroad tracks and the Santa Cruz River, as well as widening both Ina and I-10 – is near its midpoint. The work should be complete a little more than a year from now. The next big step: Before the end of January westbound traffic will be moved to share the road with eastbound traffic on the new eastbound lanes.
Ina Road isn't the only major freeway interchange getting improvements. The first phase of Ajo Way (State Route 86) interchange improvements will be completed in the spring. The new bridge already has a safer, wider single-point urban interchange and will include wider lanes on Interstate 19, a new bridge over the Santa Cruz River and a new pedestrian bridge at Michigan Avenue.
That's not all we're doing to improve roads in Pima County. East of downtown Tucson, this spring we'll begin adding traffic signals and other improvements at the eastbound I-10 exits for Wilmot, Rita and Kolb roads. We already made similar changes at Houghton Road last year.
Our crystal ball – a.k.a. the state's five-year construction program – shows there is more in store for Tucson and Pima County. Perhaps the biggest: widening I-10 over the three-plus miles from Ina to Ruthrauff. That work is scheduled to begin in fiscal year 2021.