SR 67 set to open for North Rim seasonal visitors
SR 67 set to open for North Rim seasonal visitors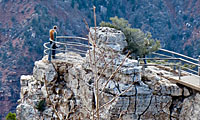 By Peter Corbett / ADOT Communications
The annual migration of adventurous tourists and rim-to-rim hikers begins next week when State Route 67 and the North Rim of Grand Canyon National Park reopen for the season.
The 43-mile highway from US 89A at Jacob Lake opens on Tuesday, May15.
The North Rim, at an elevation of 8,200 feet and isolated in far northern Arizona, receives a fraction of the national park's 6.25 million annual visitors. Plus, its visitor season is only about half the year. SR 64 to the South Rim is open year-round.
The North Rim is 220 miles from the South Rim and 350 miles from Phoenix. Cross-canyon hikers traverse 21 miles from the North to South Rim and an elevation change of more than 10,000 feet or roughly a mile down and a mile up.
SR 67 is typically open from May 15 to Dec. 1 but closes earlier if there's heavy snowfall. North Rim lodges and most facilities close in mid-October.
With the park closed each winter, the Arizona Department of Transportation does not plow snow from SR 67. The North Rim averages about 9 feet of snow annually.
SR 67 is a scenic route through the Kaibab National Forest. The highway was paved in 1940 and is known as the Kaibab Plateau North Rim Parkway.
In 1985, the highway was designated a National Forest Scenic Byway and a National Scenic Byway in 1998.