Structural Materials Testing team evaluates girders, rebar and more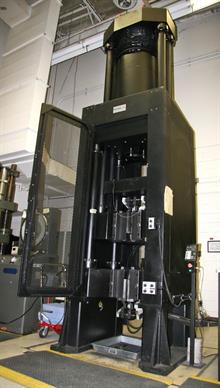 The Universal Hydraulic Testing Machine is used to evaluate rebar.
Sometimes, you have to push something to its limit to find out how strong it is.
At least, that's the case when it comes to the steel, concrete and other construction materials under the purview of ADOT's Structural Materials Testing team.
Like the name implies, this group tests and evaluates the materials used in highway construction and maintenance projects, which means bending rebar, busting cement and blowing up PVC pipe are all in a day's work.
"We're kind of like the police for the public," says ADOT Transportation Engineering Specialist Anthony Ventittelli. "The public is paying for this and we want to make sure they're getting their money's worth."
What gets evaluated?
The Structural Materials Testing team evaluates material samples that come off of current projects (to make sure they meet specifications) and from vendors/suppliers (to determine the product's usefulness for ADOT). Here's a list of just some of the materials that get tested – concrete cylinders, reinforcing steel, Portland Cement Concrete Pavement cores, PVC pipe, fencing materials (think chain link and barbed wire), cement curing compounds, glass beads and striping paint.
Besides the testing aspect of things, ADOT's Materials Group also works to develop and continuously improve/update materials specifications, policies and procedures directives, and test methods.
Another responsibility that falls to this group is the inspection of concrete girders and hundreds of precast products, including manholes, cattle guards, utility vaults, concrete pipe and retaining wall blocks.
How is it tested?
There are quite a few machines in the materials testing lab that help the crew with their work – too many to cover them all in this blog post, but we'll give you a quick overview.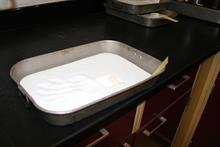 The Structural Materials Testing team also evaluates paint's reflective glass beads.
First, there's the compression machine. This applies a load to whatever is being tested (from cement cylinders to pavement markers) and measures the force that's being exerted. Load is applied until the test subject shows signs of failure.
There's also the Rockwell Hardness test, which uses a machine evaluate the hardness of the steel being tested. The machine applies a load to the steel and tests how much of an indent it makes.
Finally, there's the Universal Hydraulic Testing Machine. This machine literally pulls steel rebar to its stretching point and beyond.
"We use this to determine/verify the structural integrity of the steel," Ventittelli said.
That's not even close to all the testing that happens in the materials lab (we might have to revisit this subject here on the blog again!).
What happens next?
The testing also helps ADOT revise its specifications, Policy and Procedure Directives and Approved Products List, which is maybe a little surprising when you remember how long cement and steel have been used in civilization.
But, according to ADOT's Structural Materials Testing group manager James Wilson, P.E. there are many innovations and new products that come on the market. The testing done in the ADOT lab helps the agency find out what works.
"It's a constant process of updating," Wilson said.
To learn more about the Structural Materials Testing Group, visit the ADOT website.